SNUG
SNUG uses a public health approach and works to reduce gun violence by mediating conflicts with the individuals at the highest risk of shooting or being shot.
Program Overview
SNUG is simply "GUNS" spelled backwards, meant to show how we can reverse things that are happening in our community. Violence can result in emotional trauma. If left untreated, it could have lasting effects on the health and well-being of individuals, families and entire communities.
What is SNUG?
NYS SNUG Outreach (SNUG) is an evidence-based violence reduction initiative that was first established in New York State in 2009. The program engages the highest-risk individuals who are causing violence in communities with high rates of violent crime, addresses the issues that may be causing high-risk individuals to engage in gun violence, and educates the community on how violence is spread. SNUG prioritizes those who are most at risk of being impacted by gun violence.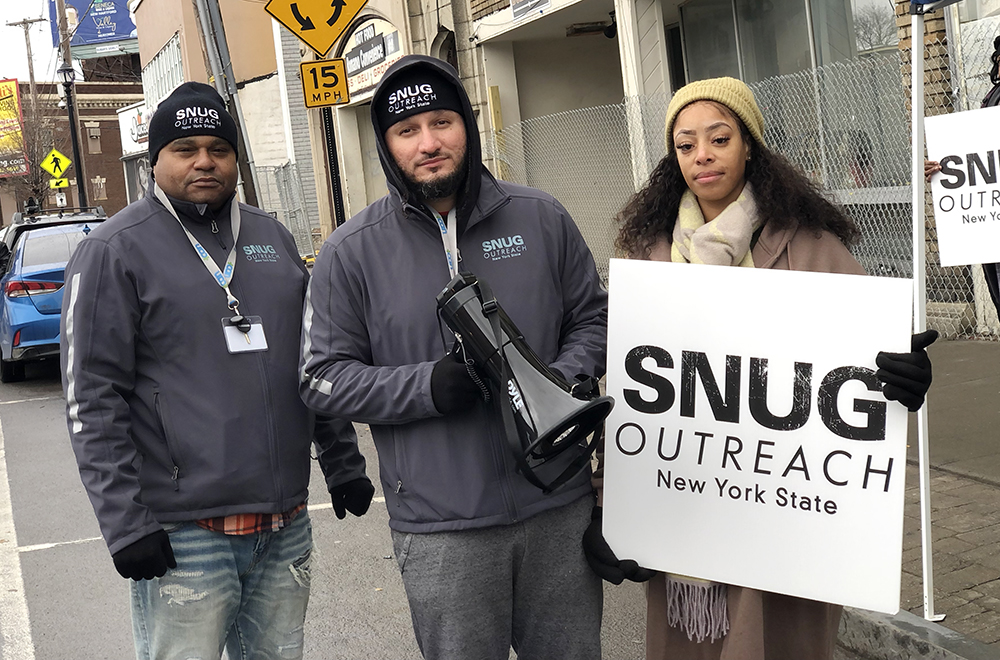 Our Team and How We Approach the Work
We employ Street Outreach Workers who are seen as credible messengers by the community. This staff lives in the communities in which they serve, have lived experience and leverage their community ties to do this important work. The SNUG team engages community residents, businesses, religious organizations and clergy and various community-based organizations to implement coordinated strategies to reduce and prevent shootings and killings. We also create special events and gatherings to share information, work in solidarity together and assist the community
We are Part of a Statewide Effort
The Division of Criminal and Justice Services (DCJS) administers SNUG in 14 sites across New York State: Albany, Bronx, Poughkeepsie, Buffalo, Rochester, Hempstead, Syracuse, Newburgh, Niagara Falls, Troy, Utica, Wyandanch, Yonkers and Mt. Vernon.
SNUG works to reduce shootings and save lives by:
Responding to shootings to prevent retaliation through mediation of conflicts and disputes

Mentoring high-risk youth and connect them with job training, education and other opportunities

A

ssist family members of those who have been injured or killed

Organizing marches and other events to show the community's stand against violence

Engaging neighbors through events and projects, such as job fairs and community gardens
Social Work Program connects individuals and families to services and supports their progress.
Emotional support for individuals and families who have been affected by violence

Assistance with processing trauma and feelings that might be holding you back

Help readjusting to daily life after experiencing a frightening event

Assistance to families with referrals to more long term services, Office of Victim Assistance applications and access to additional community based services as needed
SNUG can help victims of crime by applying for assistance from the Office of Victim Services. They may be able to help pay for:
Medical and counseling bills

Personal property essentials to somer's health, welfare and safety

Funeral and burial expenses

Moving expenses and other costs as long as the expenses are directly related to the crime
What Sets SNUG Apart
Comprehensive training, site visits and support from DCJS set SNUG apart from other community-based violence interruption programs across the state and country. New staff must complete 40 hours of training and new supervisors complete 32 hours of management training. All staff must also complete 40 hours of professional development training annually. This ongoing training and support help ensure that the program operates consistently across all SNUG sites despite being operated by different community-based organizations.
Why Consider SNUG
Our Team Approach
We embrace the Wraparound model for all of our care, services and programs. Our staff works collaboratively to develop and implement customized treatment plans for the individuals and families in our programs, and each team member contributes to our clients' successes.
Empowerment & Support
At ICAN, we strive to empower and support individuals and families facing life challenges, by providing them with the tools to make the best decisions for themselves and their families. We assist them with succeeding in any goal they may have set, whether it be recovering from addiction, finding success in the classroom, creating a healthy home for their family as they anticipate the birth of a child, or seeking support and community resources, all while keeping families together as they process through their traumas.
Access To Resources
We connect individuals and families with critical community resources, such as access to physical and mental health providers, employment opportunities, housing options, peer support groups, and Wraparound services. We understand that access to some of these services can be difficult to attain during certain life challenges, and we are here to help individuals and families overcome this obstacle.