/
ICAN Announced as the Recipient of the 2020 Mayor's Gala
ICAN Announced as the Recipient of the 2020 Mayor's Gala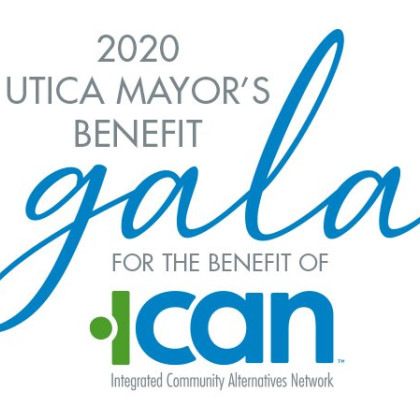 MAYOR ROBERT & SUSAN PALMIERI ANNOUNCE ICAN
AS THE 2020 MAYOR'S GALA RECIPIENT
ICAN is honored to have been chosen as this year's recipient of the Mayor's Gala
and would like to thank Mayor Palmieri and his wife, Susan for this incredible
opportunity. Stay tuned for more information and to buy tickets! It promises to be
a fun and amazing night!!
Press Release:

Mayor Robert Palmieri and his wife, Susan, today announced that ICAN will be
the recipient of the 2020 Mayor's Gala, to be held on Saturday April 25, 2020 at
the Delta Hotels by Marriott in downtown Utica. Tickets are $50 per person.
To purchase tickets you can visit the Mayor's Benefit Gala website at
www.uticamayorbenefitgala.com or make checks payable to ICAN and mail to:
ICAN, 310 Main St, Utica, NY 13501.
Integrated Community Alternatives Network (ICAN) is a unique home and
community-based network that provides individualized and non-traditional
services and care to the highest risk youth, families and adults, with social,
emotional, mental health and behavioral challenges.

ICAN has consistently demonstrated that positive outcomes can be achieved,
despite significant trauma, mental illness and psychosocial stressors through a
strength and team-based approach. ICAN's vision is keeping families together and
its mission is empowering individuals and families. They have been a mainstay in
the Central New York Community for over 20 years.

ICAN's impact is powerful – 165 employees providing 16 programs in six counties
and serving 1,500 individuals every day. In 2017, they entered into a managed
services agreement with the Utica Children's Museum.

The proceeds from the Mayor's Benefit Gala will help kick start an exciting new
undertaking that will be announced to the public next week.

Mayor Robert & Susan Palmieri stated, "We are very proud to support ICAN in
their mission to promote the wellbeing of families in our community. We would
like to extend our sincere thanks to the many local restaurants and businesses
whose generous donations make the Gala a successful event each year. We
encourage everyone to come and join us for a wonderful evening in support of
ICAN and this worthy initiative."

ICAN CEO/Executive Director Steven Bulger stated, "Next week ICAN will be
sharing a new endeavor with the community that will be the only one of its kind in
the country. Being a recipient of the Mayor's Benefit Gala couldn't come at a more
exciting time for our agency and our community. We are thrilled."

You can learn more about ICAN by visiting, https://ican.family/.