/
ICAN "Leads" the Way for Virtual Engagement
ICAN "Leads" the Way for Virtual Engagement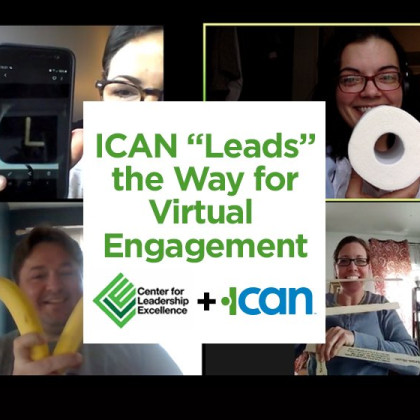 Our team at ICAN hosted the 2020 Class of Leadership Mohawk Valley (LMV) as part of MVCC's Center for Leadership Excellence (CLE) Program. Under "normal" circumstances, an LMV class might visit an organization to learn more about how they impact the community. Well these aren't normal times, and ICAN isn't a "normal" organization!
Instead, we took part in virtual roundtable discussion along with our friends at The Utica Zoo and Sculpture Space. Then we split the entire class into small teams and invited them to complete a virtual adventure! LMV'ers worked with their teams to complete an array of creative and dynamic challenges that forced them to work together and think way outside the virtual "box"!

The day concluded with our CEO, Steve Bulger, addressing the class and sharing the wonderful work that ICAN is doing as well as what the future holds for the Utica Children's Museum. Everyone got to spend a few hours being a kid again and the memories and smiles we created were priceless and a strong reflection of our vision of Keeping Families Together!

Our own Director of Community Outreach, Alyssa Trevisani, is a member of this year's class and reports her amazing experience:
"I recently experienced the first ever virtual LMV class hosted by my very own ICAN. I know what you're thinking 4hrs on a zoom call! Yikes! It was the most amazing experience. The activities were engaging and allowed for so much team building, not to mention the laughs! This virtual experience allowed for so much creativity and for my LMV classmates to showcase their strengths and leadership skills. It was mind blowing to see how ICAN adapted in this unprecedented time to give me and my LMV classmates such an engaging, and team bonding experience. Hats off to you ICAN, you delivered a stellar presentation and amazing virtual experience. I am so proud to be a part of the ICAN family!!"
Thank you LMV and CLE for being such great partners in leading the way to how we connect and be leaders!