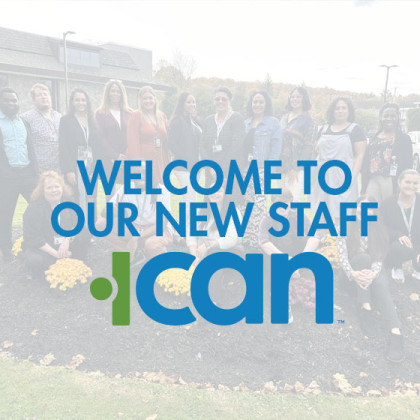 ICAN continues to grow and we are so excited to welcome new staff in many different positions to join the ICAN family!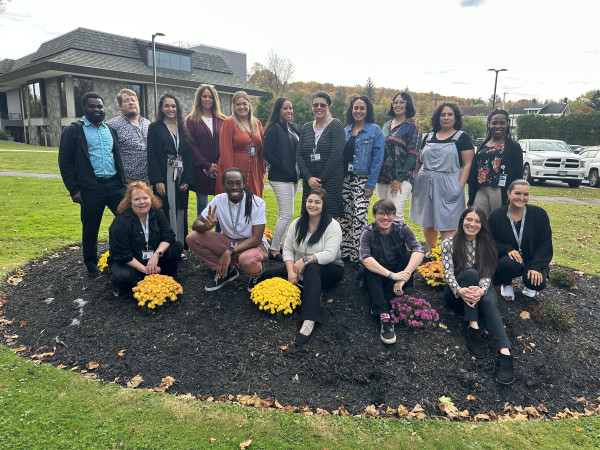 Front Row (L to R)


Bonnie Williams
Adult Care Coordinator
Bonnie loves to take vacations on cruise ships and calls herself an avid cruiser. When the weather in New York switches to snow, that doesn't stop her from adventuring - she enjoys snowmobiling. She also loves to spend time with her grandson and family.

Malik Johnson
Museum Education Manager
Malik enjoys making Hip-Hop music, he and his friends played at Saranac Thursday in front of a crowd of hundreds of people! During his time at Suny Poly, he played on the basketball team for all four years. In his free time he loves to read Manga and watch Anime - his favorite story is One Piece.

Ashley Lee
Resident Counselor
Outside of her new role with ICAN, Ashley is also a Correction Officer. Ashley was once a resident at Evelyn's House and now works there. At home, she has two children, two cats, a dog and a chinchilla.

Jonah Hensley
Community Based Support Specialist
One time, Jonah fell off a 40ft cliff and came out with no broken bones (this did lead to his fear of heights). He was born and raised in Texas for the first 22 years of his life - so if you hear him complain about the cold, that is why! Something he is passionate about and can talk about for hours is Dungeons and Dragons.

Jenny Walrath
Family Service Coordinator
With spooky season approaching - Jenny is in luck, Halloween is her favorite holiday! Among the many things on her bucket list, sky diving is one of them. She has a love for 60's era music, The Beatles are her favorite band.

Kaitlyn Maggiolino
Adult Care Coordinator
Kaitlyn is a big soccer fan and loves the sport, she played for both Suny Poly and Utica College. In her free time she enjoys both shopping and working out equally.

Back Row (L to R)

Yusuf Maalim
Service Coordinator
Yusuf was born in Kenya and moved to the states when he was nine years old. He is very active - playing soccer often for cardio and hitting the gym when he's not playing. He says soccer is where he goes to forget reality and just enjoy the beautiful game.

William Drew
Kids Otsego Service Coordinator
One of Will's major life goals is to one day own his own counseling practice. When he has the time he enjoys participating in community theater. He enjoys doing acts of kindness - one of the ways he does that is cooking and sharing what he makes with others, it is a passion of his.

Kiara Nicastro-Hanford
Family Resource Support Specialist
Something not many people know about her is that she is double jointed in her thumb. She loves babies and will voluntarily hold and talk to them, no matter whose baby it is. Not too long ago she got a concussion from not wearing a helmet.

Christine Piersma
Clinical Care Coordinator
One time, Christine went skydiving and had an absolute blast (what an adrenaline rush?! FUN!). She is hitting the ground running and absolutely loving her new role here at ICAN. Overall, Christine is a very happy person (we love to hear that!).

Marylynn Price
Behavior Specialist
When she was little, she and her family traveled with the circus (what a cool experience?!). Her parents got married at Sesame Place, The Sesame Street theme park! One time she saved her brother's life.

Marissa Williams
FPA
Something interesting about Marissa is that she has a fear of caterpillars. Before coming to New York, Marissa lived in Memphis, TN. In her free time she loves to go fishing - she has been going since she was two years old.

Jean Reale
Accounts Payable/Purchasing Specialist
Jean loves to bake for her family and friends, it makes her happy and smile (she also loves all things sweet herself!). She dreamed of traveling to Italy and she did just that - for her honeymoon, her husband, best friend and herself took the trip. She describes it as a surreal experience. She loves to relax and enjoy nature at her seasonal campsite in the Adirondacks with her family.

Marlene Brito
Community Support Based Specialist
Dancing is something Marlene loves and does whenever she gets the chance to. She enjoys traveling and exploring new places and taking in the beautiful scenery. Cooking is also something she enjoys, trying new recipes and honing her skill!

Emma Rasmussen
Community Liaison
For ten years, Emma played ice hockey, her team came in second overall in the state. She is currently taking Reiki training and will soon become a Reiki master. Some things she loves are astrology - learning about the different signs, crystals and tarot.

Melissa Arcuri
Community Liaison
She was once a wedding photographer, capturing beautiful moments for people on their special day. She loves vacationing in the Outer Banks and has done so no less than 20 times! She has worked for Kids Oneida/ICAN on and off for fifteen years - Provider, Supervised Visitation, Evelyn's House, TORCH and now Community Liaison.

Sadé Cardin
Behavioral Supports Program Manager (UCSD)
She has two teenagers, both in high school, one is a senior and one is a freshman. She says music is an essential part of her daily existence. Each day, she sets the tone with meditation and yoga practices.