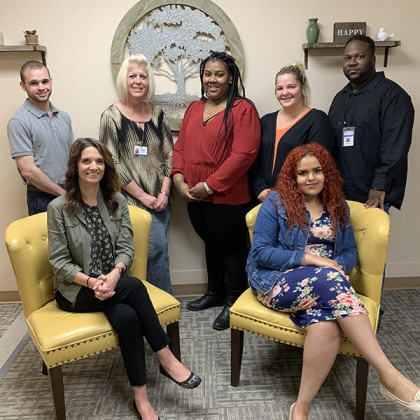 We are excited to introduce you to the newest members of our growing team.


Standing:

Tyler Fudzinski,Youth Care Coordinator in the Children's Health Homes (CHH) Program,
is a Brazialian Jiu Jitsu athlete. In his free time, he enjoys hiking and spending time with his wife and daughter.

Jodi Humphrey, CHH Youth Care Coordinator, considers herself to be shy at times and enjoys long motorcycle rides in her spare time.

Ayana Neal, Supervised Visitation Monitor, is a mom who likes to travel and hang out with her son. In addition, Ayana loves iced coffee.

Nicole Schlick, Residence Counselor at Evelyn's House, grew up in Georgia and loves to travel.

Nathan Linen, Supervised Visitation Monitor, is an adrenaline junkie who has always wanted to go skydiving! If Nathan was going to make a career change, he would become a personal bodyguard.

Seated:

Gina Dier, Director of Human Resources, is obsessed with chocolate. Also, Gina is a huge Rob Thomas / Matchbox Twenty fan and has seen every tour of either (or both) since 1997. Next month, she will meet him for the third time.

Carina Felix, Family Support Specialist for Healthy Families Oneida County, is originally from the Dominican Republic and a proud mom to four children. You can always spot Carina with a smile on her face. In addition, Carina's biggest dream is to travel around the world.