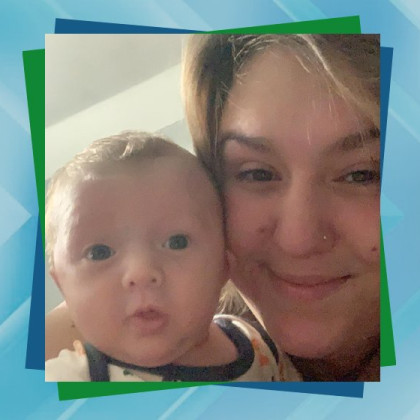 By MaeJean Dellabarca-Barnes, Nurturing Parenting Program Specialist at ICAN
Parenting is a little bit learned experience, a bit of "figuring it out along the way", sometimes a bit of sheer caffeine-fueled magic and lots of trial-by-error! Everyone approaches it in their own way and is equipped differently. For those who struggle or need some reassurance and direction, parenting can be strengthened through educational and empathetic guidance through a resource like ICAN's Nurturing Parenting Classes. The 12-week classes are open to any parent, guardian or caretaker who is interested in learning new ways to work together as a family.

The following is a testimony from an ICAN staff member who has taken ICAN's Nurturing Parenting Class and who also teaches the classes. She shares what she has learned and how she is utilizing the skills in her own life with a new baby. Her reflection, self-awareness and tips will help give you some motivation and share the benefits or our program.

__________________________


Becoming a new mom comes with an abundance of new responsibilities, emotions and lifestyle changes. It can be stressful, full of excitement and "oh my gosh this is actually happening?!" moments.
Set Nurturing Family Routines
Establishing and maintaining nurturing routines has been beyond helpful in transitioning from one child to two. Our routines have made it easier to plan out our days and not feel so overwhelmed with homeschooling, caring for an infant and working from home full time. Establishing a routine for the baby that works around getting our son on the chrome book for school helps our family so we aren't stressed about doing too many tasks at once. For example, the baby naps from 11am to 1pm. During that time, I can assist our older son without running back and forth, which relieves some of my stress.
Nurture Yourself
As a parent, my biggest goal is to be the best mom I can be. Making sure my emotional, physical, creative, intellectual, spiritual and social needs are met are going to help me be that mom. In order to be a nurturing mother, I have to nurture myself. If these needs aren't getting met, I can be rude, yell or snap at my children. For example, being home for the majority of time since last March and staying at home with my children while my partner is at work has limited my social interactions, as I'm sure it has for most people. I became cranky and easily irritated. Staying inside the same four walls day in and day out can take a toll on someone, but taking a day on the weekend for a countryside drive or a socially distanced picnic with my family in our driveway helped get my social needs met. Instead of just going to bed after a long day, I started to sketch pictures in a book to reestablish my creativity. I decide to go back to school to challenge my intellectual needs. It doesn't have to be an extravagant resolution, but something small to cover every need goes a long way in being the best parent you can be. Remember, when my needs aren't met, my children feel it through my behavior and my stress could be reflected onto them, which upsets everyone. When my needs are met, I can be a nurturing parent and provide a happy and healthy environment for my boys.
Ask for Help
Asking for help has never been a strong suit of mine. I believed asking for help meant that I was weak or couldn't handle the situation, but that's not at all what it means. Asking for help means that I can recognize when I'm overwhelmed. When it comes to being a mom, there seems to a stigma that "moms do it all!" That doesn't have to be the case. Asking for help has been beneficial for me adjusting to being a new mom and dealing with everything that comes with it. From asking my best friend to come over and talk with me while I cleaned my house, to asking my mother if we could come to her house for dinner one night because I was too exhausted to even think about cooking a meal or even asking my partner to get up to feed the baby because I needed that five extra minutes of sleep, asking for help alleviated so much worry and stress. You have resources and support, use them!

Don't let parenting become overwhelming! With routines, self-care and bringing in help when needed, you can achieve a better balance for yourself, a positive and healthy childhood for your children, and an improved quality of life your the entire family.

If you or someone you know is interested or could benefit from ICAN's Nurturing Parenting Classes, read more here. Classes are available in Herkimer County with a referral and classes held in Oneida County are open to participants from any county through self referrals, community referrals and court orders.

______________________________________

MaeJean Dellabarca-Barnes, a Nurturing Parenting Program Specialist, joined the ICAN team in March 2020. She received an Associate's Degree in Human Services from Hudson Valley Community College, completed an internship through St. Catherine's Center for Children in Albany and is continuing her education at Herkimer College, majoring in Psychology. Her goal is to make some sort of difference in the world, even if it's just one person and says that ICAN has given her the opportunity to do so!