/
Brandi Candido Celebrates 20 Years at ICAN
Brandi Candido Celebrates 20 Years at ICAN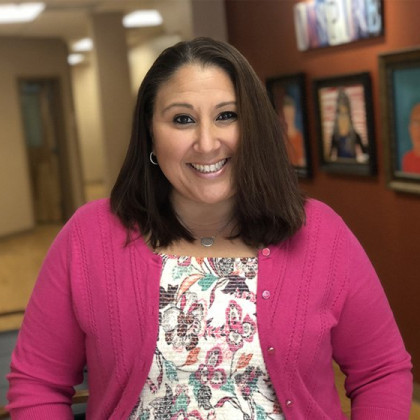 Brandi Candido started at Kids Oneida on September 3, 2001 as a Family Service Coordinator. She helped start the Kids Herkimer program in 2008 and in 2017 in her new role as Director of Brand Management, she oversaw the rebrand of the agency to ICAN and the creation and growth of a Development/Marketing team for the agency.
Brandi lives and breathes ICAN and we were happy to sit with her for a look back at her career and to share a bit more about her!

Tell us about your history with ICAN.
My journey with ICAN actually starts BEFORE my hire date in 2001! In 1998, I found my first job at UCP right out of college, doing work as a mentor/provider for a brand-new agency named Kids Oneida! I spent three great years providing an array of our contracted services to KO children and families. In 2001, a position as a Family Service Coordinator (FSC) opened up and I jumped on the opportunity to join the KO team. I was an FSC in the Kids Oneida program until 2008, when I was honored to accept the opportunity to help start the Kids Herkimer program in Herkimer County and it was there that I stayed until 2017 to support and grow the program, eventually as the Program Manager.
I became the Director of Brand Management in 2017, moving back to our "headquarters" at 310 Main Street to lead the rebrand from Kids Oneida to ICAN. This is the role I still serve in today, now overseeing branding, marketing and development in the agency.
What are your future plans at ICAN and what do you still hope to achieve.
I hope to spend many more years at ICAN (hopefully the rest of my career!). I want to support the marketing and development efforts of the agency so that we can continue to grow and reach so many more of the population in need. My ultimate goal, however, is to be a role model to the future ICAN family, to trust in our team and our mission and grow with us as we continue to Keep Families Together.
What is your favorite ICAN memory?
There are so many amazing memories, and many are attached to an amazing annual event we used to do – Photovoice, where we would tell the stories of strength, resiliency and empowerment of those we support each and every day though photos and video. Listening and watching one young lady's dream become reality to sing a Broadway hit on the stage of the Stanley in front of hundreds in the audience was by far the most moving and memorable moment of my career.
Why do you think you have stayed at ICAN this long?
There are so many reasons that I have stayed at ICAN all these years… our culture, our leadership, our services, our mission and vision are just a few. I have had the ability throughout my career at ICAN to get involved in special events and activities such as Employee Appreciation, Adopt a Family, Photovoice, Fundraisers, Golf Tournaments, Youth Groups and so much more. Participating in these "extra" efforts has brought joy and fulfillment to my career and for this I am so grateful. The Adopt a Family program alone has led to lifelong connections and friendships over the 18 years I have been involved in that initiative and really solidified to me how generous our community is.
What do you like most about working at ICAN?
I love the people – those we serve and support, the stakeholders and donors that support US, and our ICAN team of employees and providers. We are the most committed, compassionate, hard working group!
Tell us a bit about Brandi outside of ICAN!
I have a wonderful life with my amazing wife, Kim, and incredible daughter, Lex, a senior at Union College this year. Kim and I love spending our weekends attending Lex's Rugby games and exploring the areas that our travels take us. We are avid sports fans, so you can catch us watching games, especially football and baseball, quite often in our spare time. Our favorite hobby, and one we are quite proud of, is boxing – we fell in love with the sport over a year ago and train at least 4-5 days each week! Other than that, I love spending time with my family, both our given and chosen ones – not much time goes by in our lives without some kind of get together!