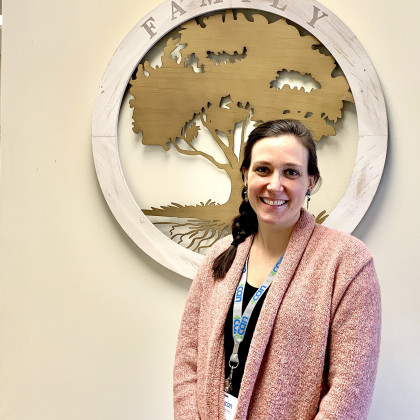 Provider Spotlight February 2020
Brittney is celebrating her first anniversary as a provider in our IPA this month, February 2020. Brittney was an intern at ICAN in 2010 and then began a 6-year career with us, working in our Case Planning Unit and then in Kids Herkimer, where she stayed until 2017. She created her own business and joined the IPA after maternity leave for her first child. Brittney says being a part of the IPA is the perfect way for to her stay working in a career that she loves with an agency she trusts while still having the flexibility to be home with her daughter.
Brittney works primarily with adults in our Health Home program, which gives her the opportunity to utilize her background in public health and diabetes education. She currently is working on hiring a team of part time and full time folks within the next few months. Brittney's experience working as a Family Service Coordinator in Kids Herkimer gave her great insight into where the gaps exist in our IPA, and she hopes to be able to help with her new business. Her goal is to build a team focused on the more rural areas we support, most specifically in Herkimer and Otsego Counties.
Brittney says that the best thing about being a provider in our IPA is the uniqueness of every single referral she receives. She loves meeting with new clients and helping them figure out what their strengths and needs are, and what goals they hope to achieve. She appreciates and believes in the holistic approach towards the care that she gets to provide, especially with the adults she works with – focusing on all aspects of life; medical, social, emotional and mental health. She gets to be autonomous and she thinks that is just amazing.
Fun Facts about Brittney:
Brittney facilitates diabetes and chronic disease education workshops in the community.

Brittney enjoys spending time outdoors with her husband, Matt, daughter, Maya and dog, Doc, and they are excited to be expecting their second child this year!

Brittney is an avid runner and runs for a charity called Who I Run 4, where she connects with and runs for someone incapable of running because of a disability.