/
Call for Presenters for Overcoming Obstacles Conference
Call for Presenters for Overcoming Obstacles Conference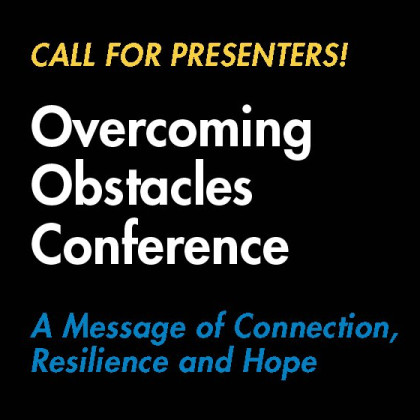 Call for Presenters!
The first of its kind in the area, the Overcoming Obstacles Conference will convene over 2,000 ninth grade students from our tri-county area for a day full of inspiration, learning, connection, networking and so much more. We are seeking dynamic presenters to deliver a variety of exciting, helpful and motivational topics to the students. If you are a teacher, a motivational speaker, work with youth on a regular basis and have great tools to share or have a particular interest area or skill set that would be perfect for this age group, we're looking for YOU!
Information on the conference and topics suggestions are below. You can easily submit a proposal for your workshop idea here.
Deadline for Submissions:
Monday, August 15, 2022 by noon
For questions:
Natalie Zumpano
ICAN's Director of Community Initiatives
315-801-5706
nzumpano@ican.family
Presented by:


Conference Title
Overcome Obstacles:

A Message of Connection,

Resilience and Hope
Event Details
DATE: Tuesday, October 11, 2022
TIME: 8:30am - 1:30pm
LOCATION: SUNY Polytechnic Institute in Marcy, NY
FOR: Over 2,000 area 9th grade students
Overview
We're seeking proposals for 60-90 minute interactive workshops as part of a one-day conference centered around fostering connection, building resilience and instilling hope in 9th grade students.

ICAN, in partnership with Utica National Insurance Group, OHM BOCES and local school districts will be hosting the conference. Students will have the opportunity to participate in dynamic workshops that are highly interactive and utilize experiential learning techniques.
Submission Details
Each proposal should be submitted using this Google Form and please include:
Title of workshop
Workshop description
How the workshop will be interactive
Workshop goals
Trainer bio(s)
Number of students that can be served

during this workshop
Preferred setting (i.e. outside field,

classroom, an open area, etc.)

Please note: workshops/sessions

will be 60-90 minutes
Training Topics
(Can include, but are NOT limited to)
Leadership
Communication Skills
Managing Change
Team/ Trust Building
Critical Thinking
Mental Health
Improvisation
Poetry Slam
Social and Emotional Learning
Self Management
Teaching Tolerance
Catalyst for Change
Building Relationships
Responsible Decision Making

The conference will conclude with two inspirational keynote speakers: