/
A Warm Welcome to our New Staff Members
A Warm Welcome to our New Staff Members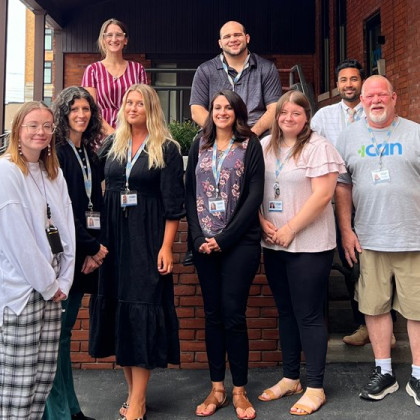 We are excited to welcome the new members of our growing team!

Top row: Natasha Pollard and Alex Marro
Standing, from left to right: Mackenzie Wintermute, Lydia Otto, Dzenisa Sabanagic, Stasia Darling, Rebekah Groom, Jim Daoreuang and Ken Williams

Jim Daoreuang
Education and Training Program Manager
Jim is rhythm ukulele-ist in an Indie/Ska/Folk/Funk/Jam band with his two sons, Allyn and Hollis. He enjoys the great outdoors and is always finding new ways to appreciate the beauty that exists in nature. In addition, Jim is building an adventure van with very limited skills in design, carpentry, electrical and vehicle maintenance!
Stasia Darling

D
iversion Coordinator, Juvenile Justice

Stasia has traveled to five countries so far, she makes and sells dream catchers on Etsy and has a second job as a barista.



Rebekah Groom
Adult Care Coordinator, Adult Health Homes

Rebekah loves paddle boarding. She has fed a giraffe a carrot from her mouth and she always pulls over on the side of the road if she sees an animal.
Alex Marro

Youth Care Coordinator, Children's Health Homes

Alex is the number one heavyweight in the country in amateur mixed martial arts and currently holds the Cage Wars heavyweight championship and defended it in front of Mike Tyson. He went to school for music and played in the Albany symphony, Catskill Symphony, and played at Carnegie Hall twice. He has a YouTube channel with 5,000 subscribers that continues to grow daily.


Lydia Otto

Youth Care Coordinator, Children's Health Homes

Lydia lived in Germany a total of eight years (three different times) during her husband's time in the Army. She did Air Assault School when she was in the Army and repelled out of a helicopter. She has also read the Bible through 16 times.
Natasha Pollard

Youth Care Coordinator, Children's Health Homes

Natasha can say her ABC's backwards, she has a small animal farm and she has never been on a plane.
Dzenisa Sabanagic

Youth Care Coordinator, Children's Health Homes

Dzenisa was born in Bosnia and moved to America when she was three. She has three nieces who are her world and she is working on her Masters for mental health counseling.
Ken Williams

Facilities Manager

Ken loves hanging out with his grandson - he is just so much fun to be around the stuff he comes up with is amazing. He enjoys fishing with his son in bass tournaments and also enjoys cooking food on the grill and trying new rubs that he makes.
Mackenzie Wintermute

Community Based Support Specialist, System Of Care

Mackenzie has been to two different countries- Spain and Ireland. She plays two instruments and is a cat and plant mom.