/
Celebrating Staff and Providers for Military Appreciation Month
Celebrating Staff and Providers for Military Appreciation Month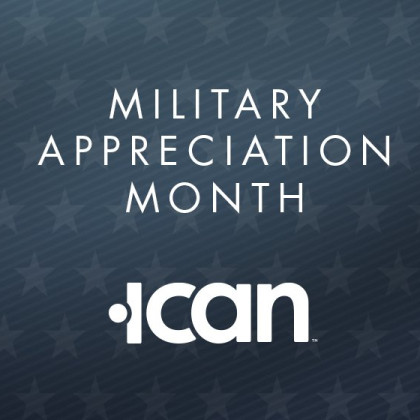 For Military Appreciation Month, we want to celebrate and thank members of our staff and Independent Practice Association who have served their country in the military. We thank them for their service and for sharing some details of their military careers for us to share here with you. We are so honored to have them as part of our ICAN family.
Jennifer Pedersen, FPA
ICAN Peer Support Services Program Manager
Military Veteran, Air Force
Served in the USAF for 4 years. Received an E-4 ranking "below the zone" (early) and was an expert marksman. I was specialized to care for Bone Marrow Transplant and Stem Cell Transplant patients, Emergency Medicine and had my Paramedic certification.
Christopher Freund
ICAN Adult Care Coordinator
Military Veteran, Army
Fresh out of high school I had joined the military in June 2000 where I went to basic training down in Fort Benning, Georgia and graduated as an Infantry Mortarman. After basic training, I stayed an addition three weeks at to attend training for Airborne qualification.
Over my ten year and eight months of service, I have been stationed at Fort Drum, NY twice, Germany, and also Fort Hood, Texas. I have also served a total of 45 months in combat zones – six months in Kosovo and the remaining 39 months were served over three deployments to Iraq.
The awards that I have earned have included six Army Commendation Medals, two Army Achievement Medals, two Meritorious Unit Commendation, two Non Commissioned Officer Professional Development Ribbon, Combat Infantry Badge, Parachutist Badge, and so forth.
Kevin Waterman
ICAN
Street Outreach Worker


Military Veteran, Air Force
ATC Instructor Minuteman Weapons System
Franklin Davis
Provider, Independence Practice Association
Military Veteran, Air Force