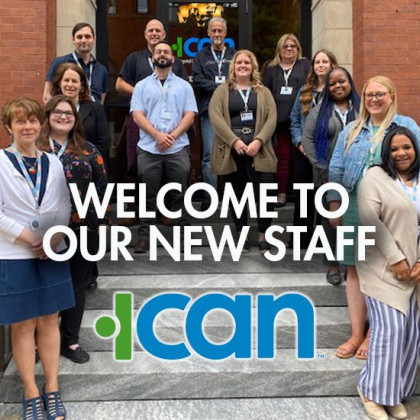 We are very excited to introduce you to the members of our growing team!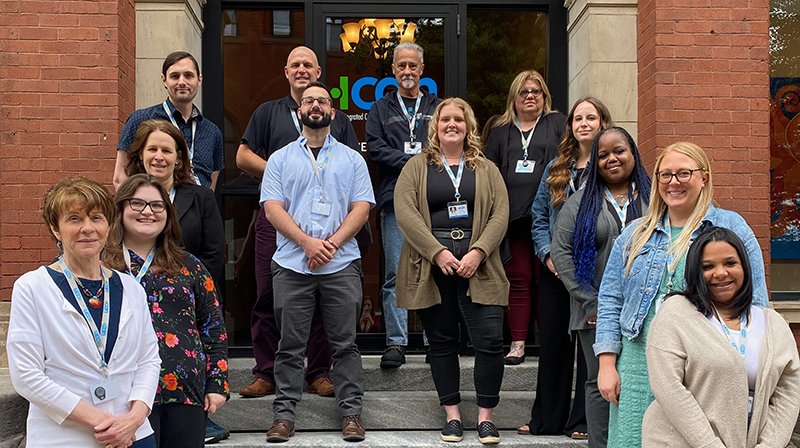 Left to right: Robin O'Brien, Karina Perry, Natalie Zumpano, Matthew Boulerice, Josh Mescall, Kevin Waterman, Tina Tyrrell, Caitlin Adasek, Anita Taylor, Katelyn Duffy and Rosaysela Cabrera
Front: Paul Sirianni and Taylor Ryan
Enjoy some fun facts about each of our new team members!
Caitlin Adasek
Family Service Coordinator (Kids Oneida)
Caitlin is a Boston Celtics fan, her favorite holiday is Halloween and she loves cats.
Matthew Boulerice
Behavior Specialist (School Based Services)
Matt has a large board game collection and have helped playtest 2 board games and 3 RPGs by independent creators. He loves live music and used to design the posters for local punk shows. He also enjoys doing leatherworking and woodburning in his spare time.
Rosaysela Cabrera
System of Care Community Based Support Specialist
Rosaysela loves to cook and to travel and she is bilingual, speaking both English and Spanish.
Katelyn Duffy
Youth ACT Clinical Support Staff
Katelyn has a very hyperactive Australian Shepherd named Banks, she goes to OBX every year for vacation and she worked for the New York State Child Abuse Hotline for four years.
Joshua Mescall
Family Service Coordinator (Kids Oneida)
Josh worked for 15 years as a Professional Chef. While working at the Savoy Hotel in London, he cooked dinner for the band U2. He and his wife forage for wild leeks and mushrooms every spring and fall. He also loves to take his family (wife and 3 children) camping in the Adirondacks where they cook over the open fire.
Robin O'Brien
Strategic Advisor
Robin once owned and operated a bagel business that imported authentic NYC bagels delivered fresh to Utica and the surrounding area. What a blast driving from the city up the thruway in the middle of the night with a truck full of hot bagels! She was at one time the HR and Public Relations Director for a company that manufactured union suits (including the red long underwear button ups!) She absolutely love dogs but her heart also belongs to horses. For many years, she rode with a group that went on 100 mile camping trail rides!
Karina Perry
Clinical Care Coordinator (School Based Services)
Karina has a dog named Marlie, enjoys going to the movies and on road trips
Taylor Ryan
Family Service Coordinator (Kids Oneida)
Taylor just went to Alaska for the first time in May (it was INCREDIBLE!!), she has an irrational fear of whales and she will dance any time, any place, any chance she gets!
Paul Sirianni
Family and Community Based Services Specialist
Paul loves creating, as well as eating, charcuterie boards. He looks forward to fall-time activities such as apple picking with his son Luca and dog Oakley every year. His favorite holiday is Christmas even though he's not a fan of the snow.
Anita Taylor
Youth ACT Program Assistant & Evelyn's House Residence Counselor
Anita is a grandmother of five, loves the color purple and her favorite season is fall.
Tina Tyrrell
Family Service Coordinator, Kids Herkimer Early Intervention Diversion
Tina has been to over 50 live classic rock concerts, she helped build and drove a race car and she likes to cook.
Kevin Waterman
Street Outreach Worker
Kevin is a Veteran of the United States Air Force, retired from NYW Departmetn of Corrections and Community Supervision and is a Harley rider, which is his stress relief!
Natalie Zumpano
Director of Community Initiatives
A quote Natalie lives by is: "If you are not part of the solution you are part of the problem." She has helped to raise awareness for The National Center for Missing and Exploited Children by doing the Ride for Missing Children and presenting to school age children for seven years. In the spring and summer she enjoys gardening. (The animals in her neighborhood have been great at eating all the vegetables!) This year, she is trying to see if growing a variety of hot peppers will prevent the animals from visiting my garden so often.