/
Children's Books That Illustrate Empathy
Children's Books That Illustrate Empathy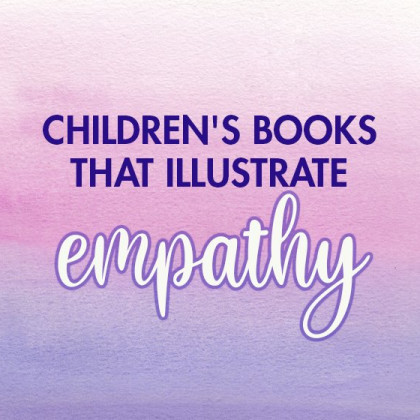 Reading is a great way for children to view the world through someone else's eyes.
Introducing books to our children that show what kindness and compassion look like can help them understand the concept of empathy. There are many books that can help children empathize with others, we have listed just a few that you and your children may enjoy.
We would love to hear what you and your family thought of these books and if you have any you think we should add to this list.

Last Stop on Market Place
by Matt De La Pena
A boy and his grandma catch the bus. We don't yet know where they are headed, but along the way the boy asks questions about why they don't have certain luxuries. He wants to know why they don't have a car or an iPod. The grandma has a ready answer about the advantages of what they do have and encourages him to think of positive aspects of lacking material goods. When they reach their destination… well… it will be even more inspiring. (Recommended for ages 3 and up)
One
by Kathryn Otash
Using colors, the story One shows how a strong personality can impose beliefs and opinions onto others through force and fear. In this case, Red has decided that it is better than Blue, Yellow, Green, Purple, and Orange. That is until One comes along and stands up to Red. What happens next illustrates how a band of people (or kids) can stand up to negativity and intimidation. (Recommended for ages 3 – 7)
Hey, Little Ant
by Phillip and Hannah Hoose
Give children practice looking at situations from another perspective with the story of an ant and a boy. (Recommended for ages 4-8)
A Sick Day for Amos McGee
by Philip C. Stead
Friends come in all shapes and sizes, and Amos McGee is a good friend to everyone. When he gets sick, his friends decide to take care of him. (Recommended for ages 4-8)
The Great Gilly Hopkins
by Katherine Paterson
Do you remember reading about Gilly when you were a kid? Gilly is a feisty foster kid who longs to be reunited with her mother. She imagines her mother as a loving figure and is distrustful of others. Her new foster family is an unusual group and despite her efforts to remain disconnected, she learns about the value of loving relationships and looking beyond appearances. (Recommended for grades 5-6)
Sam and the Lucky Money
by Karen Chinn, Cornelius Van Wright, and Ying-Hwa Hu
It's New Year's Day and young Sam cannot wait to spend the lucky money his parents gave him! As they wander through the crowded celebrations in Chinatown, Sam thinks about all the ways he could spend his $4. Sam literally stumbles over a man sitting on the street, and he's puzzled about why the man would have bare feet during winter. As they continue their celebrating and shopping, everything that Sam wants costs more than his lucky money. When he complains, his mother reminds him to appreciate what he's given. When they again cross paths with the man who doesn't have any shoes, Sam finally knows what he wants to do with his lucky money. (Recommended for ages 5 – 9)
Giant Steps to Change the World
by Spike Lee, Tonya Lewis Lee, and Sean Qualls
If we want to help children live compassionately, we must also help them develop courage. This picture book inspires children with the many ways they can make the world better, and fill the big shoes of past leaders. The book reminds children in several ways that this will not be easy, but it also gives them (unnamed) examples of people who have courageously acted for freedom, knowledge, kindness, and beauty.
The endpapers of the book are filled with quotes by some of the leaders' whose compassion and courage are featured in the story. (Recommended for ages 5 – 9)
The Invisible Boy
by Trudy Ludwig
This story demonstrates how small acts of kindness can make people feel included and help them flourish. (Recommended for ages 6-9)
Wonder
by R.J. Palacio
Readers are transported into the world of Auggie Pullman and how he navigates junior high with a rare facial disease. (Recommended for Ages 8-12)
Lost and Found Cat: The True Story of Kunkush's Incredible Journey
by Doug Kuntz, Amy Shrodes, and Sue Cornelison
For many children, showing compassion towards animals is a way they learn to develop kindness in general, making this an ideal book for exploring kindness. This is a true story of an Iraqi family who fled the violence of Mosul. The mother Sura is determined that their beloved cat Kunkush must come with them on their uncertain journey. When their crowded boat lands in Greece, Kunkush is lost in the chaos.It's hard for children who live in safety to imagine what it's like to become a refugee. But because this story focuses on the family's love of their cat, it can help children who aren't refugees develop empathy and understanding for those who are. The photographs of Kunkush and the real people involved in the story at the end are not to be missed! (Recommended for ages 4 – 10)
Counting by 7s
by Holly Goldberg Sloan
Willow is 12 years old when her adoptive parents are killed in a car crash, leaving her totally alone. Willow is intensely gifted but doesn't make friends easily. At the counselor's office, she makes befriends with Mai and her brother, Quang-ha. The siblings take her home to their mom, who convinces social services to allow Willow to stay with them. Willow's narration of the story, her observations of others and her approach to learning how to interact with others is compelling. The cast of characters, including her underachieving school counselor, and Vietnamese foster mother struggling against poverty are both touchingly human and quietly funny. (Recommended for ages 10 and up)
Roll of Thunder, Hear My Cry
by Mildred D. Taylor
Set in Mississippi during the Depression, this story chronicles the struggle of young Cassie's family to maintain their independence in the face of social injustice. (Recommended for Ages 10 and up)
Out of My Mind
by Sharon M. Draper
This author takes the reader into the everyday life of Melody, an 11-year-old with a photographic memory and cerebral palsy. Readers will fall in love with this inspiring character.Your life will help determine the course of history. You may think you don't have much of an impact. You do. Every action you take will reflect in someone else's life. Someone else's decisions. Someone else's future. Both good and bad. – Bregdan Principle (Recommended Ages 12 and up)