/
Creative Ways to Celebrate Grandparents Day
Creative Ways to Celebrate Grandparents Day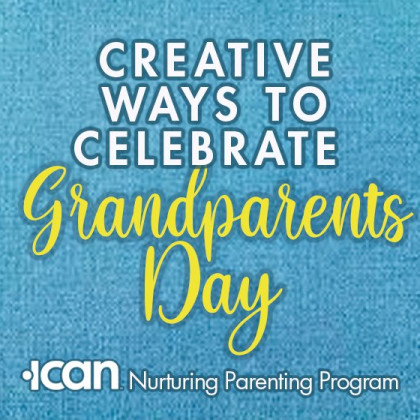 "A grandparent is a little bit parent, a little bit teacher, and a little bit best friend."
– Unknown
Grandparents Day is this Sunday, September 13th. Many of a child's best memories revolve around time spend with their grandparents. During this time, we know that in person visits might be difficult to do, but there are other great ways to connect with your grandparents to let them know you're thinking of them.
Grandparent Interview
Think of some questions that you'd love to know about your grandparent. Document or record the interview and keep it as a family keepsake.
Here are some ideas to help get you started:
Did you have a favorite toy when you were little?
Did you ever get into trouble as a child?
Who was your best friend and what were they like?
What was your favorite age to be and why?
What is your favorite childhood memory?
What was school like for you as a child?
What is your favorite thing about being a grandparent?
Tell me about the day we met?
Plan a date night with your grandparent. Some fun things to do could be:
Go to the park
Play a classic board game
Plan a movie night
Bake a special dessert together/write out the recipe in both of your handwriting
Look through old photo albums
Create a grandparent/grandchild photo shoot
Fun things to do on Zoom with your grandparents
Complete a crossword puzzle
Play i-Spy
Do some show and tell
Set up a scavenger hunt with every day items
Make a simple recipe together
If you sing or play an instrument, hold a concert for them!
Read a book!
Create your own progressive story, flip flopping sentences
Draw or paint each other's portraits
Get creative with mail!
Become a pen pal with your grandparents by exchanging letters
Trade and decode secret messages. Try this downloadable version!
Send a postcard from your town, even if you live in the same town as your grandparents!
Create a special message pillow case. All you need is:
A solid color pillow case
Fabric markers
A special message just from you to your grandparent
Grandparents can be full of knowledge, humor, history and fun! Even if you can't get together, there are plenty of ways to get closer and to enjoy their company through other ways. Be sure to use Grandparents Day as an opportunity to tell them how much they mean to you!