/
Keeping a Step Ahead of Your Mental Health During COVID
Keeping a Step Ahead of Your Mental Health During COVID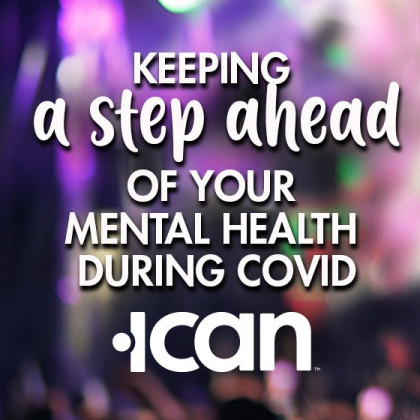 Identify Common Pandemic-Specific Triggers and Symptoms of Anxiety and Depression

We talk about COVID-19 symptoms, such as shortness of breath, a tight chest, an unbearable dry cough. We look out for high fevers, muscle aches, headaches, sore throats. Side effects of COVID-19 have also gotten a lot of attention, such as the unknown long-term physical effects, the financial devastation of families, unemployment, missing family members and normal routines. We talk about our kids going back to school, or not. We discuss our own work schedules and what that looks like for our offices and clients. Many will worry about their diet and exercise routine as their work pants no longer fit like they used to, or a potential second wave hitting around flu-season. There are so many common conversations circulating around friend groups, group texts, Facebook pages, and community circles, but something less openly talked about is the devastation that COVID-19 has caused for people with underlying mental health conditions, or the new mental health symptoms that have arisen for individuals that have never before struggled with their mental health.

Depression affects approximately 17 million people annually in America, and anxiety affects about 40 million. These numbers have been calculated during "non-pandemic" times, so what does this mean for the year 2020? With increased social isolation, unexpected deaths of loved ones, losing jobs, long days at home, a loss of sense of self and/or purpose, and new anxieties around contracting COVID-19, these numbers are likely to skyrocket.

It's important to know what your baseline is, such as how you feel physically, mentally, and emotionally when you feel content or happy, in order to track any changes that occur. It's also important to pay attention to any triggers that you can pinpoint in regards to your depression and anxiety symptoms.

Some common triggers for anxiety and depression during COVID-19:
Receiving a phone call from a loved one, prompting you to worry about any potential bad news you may be receiving

Feeling any physical symptoms that are related to an underlying medical condition, seasonal allergies, or pain, causing you to become anxious that you have contracted the virus

Being alone or in one setting for prolonged periods of time

Not speaking with a friend or family member, causing you to feel depressed or anxious about their well-being

Remembering that you have to return to work or return your child to school soon

Watching the news or going on social media and being bombarded with statistics, facts, or stories about people related to COVID-19

Loved ones or even strangers in the grocery store talking about anything related to COVID-19

Entering highly populated areas, such as a mall, grocery store, or government building
Some common symptoms of anxiety:
Hyper-vigilance

Irritability

Racing or intrusive thoughts

Inability to concentrate

Shaking or sweating

Excessive worry or fear

Panic attacks
Some common symptoms of depression:
Guilt, hopelessness, or loss of interest in activities you used to find fun

Sadness, anxiety, or mood swings

Fatigue

Somatic symptoms, such as headaches, stomachaches, or a racing heart

Loss of appetite or sleep

Significant increase in appetite or sleep

Excessive crying or irritability

Social isolation
It's also extremely important to remember that anything can be a trigger for you. Just because it may not "make sense," or appear to be related to your anxiety or depressive symptoms, doesn't mean that it isn't a trigger. Specific people, rooms in your home, smells, or settings can be a trigger for you. Your symptoms may not seem "traditional" either. What your best friend may describe as her symptoms of anxiety may not match yours in the least bit. Mental health symptoms present themselves in countless ways, but that does not discount what you're feeling.
Here are some tips if you are struggling with new mental health concerns:
Create a log and track what you were doing before, during, and after

your symptoms begin to get a better idea of triggers, symptom presentation, and coping skills that worked for you to calm yourself down during these times of increased stress.

Remember that

some common symptoms of depression and anxiety may also overlap with symptoms of COVID-19,

such as tightness in the chest, fatigue, or difficulty catching your breath. Before jumping to any conclusions, consult your doctor, a local urgent care, or mental health professionals.

If you're experiencing new or increased symptoms of depression, anxiety, or any other mental health disorder,

consult a mental health or medical professional

.

Make a loved one aware of what is going on so they can help you navigate your experiences.

Do not try and battle these feelings alone.
Exercise

. Exercising releases endorphins and other hormones, such as dopamine, norepinephrine, and serotonin, which all positively affect your mood. Increasing the amount of these hormones naturally through exercise or getting outside in the sun can provide the boost to your mood that you need.
Resources:
Mobile Crisis Assessment Team (MCAT)

- 24/7 crisis helpline - (315) 732-6228

Domestic & Sexual Violence Crisis Hotline

(Oneida County)

- (315) 797-7740

Rescue Mission: Addictions Crisis Center

- (315) 735-1645
___________________

Bri Anderson has worked for ICAN for the last three years evolving through several roles in the company, including intern, support staff, supervised visitation monitor, adult care coordinator, and assisting staff in the marketing, quality assurance, and accounting departments. She was recently named ICAN's newest Community Based Therapist after receiving her Master of Social Work (MSW) degree from the University at Buffalo. Bri is so excited to be working clinically with children and families in the community and continuing to do what she loves.