Herkimer BOCES Director of Special and Alternative Education Roberta Matthews presented the award to ICAN officials during the Herkimer BOCES 2022 Annual Meeting on Thursday, April 7, at the William E. Busacker Complex in Herkimer.
"Our partnership benefits students, families and our community. Lives are truly changed for the better through this collaboration, and I truly believe that it saves lives," Matthews said. "This award is an opportunity to recognize and appreciate a community-based organization that has listened to the needs of our school districts and has consistently responded – not through meetings and committees, but through programs and services that meet our students and their families right where they are right now. And for that, we are incredibly grateful, so thank you very much."
The following ICAN officials attended the Herkimer BOCES 2022 Annual Meeting to accept the Community Partnership Award: ICAN Chief Executive Officer/Executive Director Steven Bulger, ICAN Chief Operating Officer Kristen Rasmussen, ICAN Chief Administrative Officer Jeremy Butler, ICAN Director of Behavioral Health Services Carrie Conte and ICAN Development Coordinator and Herkimer BOCES Board of Education member Deborah Kessler.
Bulger spoke to Annual Meeting attendees after receiving the award and said Matthews was essential to the partnership and the creation of the Academics Re-imagined Connecting Healing, Education and Supports program, also known as ARCHES.
"If it wasn't for Roberta's vision for something like this we wouldn't be touching as many lives as we are now with the ARCHES program here at Herkimer BOCES," Bulger said.
Bulger also thanked Herkimer BOCES District Superintendent Sandra Sherwood, Herkimer BOCES Board of Education members and Herkimer BOCES component school district superintendents and board members.
"At the end of the day, it's about the kids and the families, and if we can give them a chance to be successful in school, that's going to have transformational effects for generations," Bulger said. "So our hats are off to you as the board and all of your component districts for believing in this collaboration that is now six years old, and that's crazy to say. So thank you for believing in us, and most importantly believing in the kids that make ARCHES and these services possible."
The partnership
Students in the region who need the most help with intense emotional and behavioral management are now getting it.
An assortment of additional student supports are now integrated into various Herkimer BOCES programs.
ICAN, formerly known as Kids Oneida, has expanded its school-based division, increased its ability to directly assist the Herkimer County community and established a building in Herkimer.
All of this and more has come from the partnership formed several years ago between Herkimer BOCES and ICAN and is why ICAN won the 2022 Community Partnership Award.
"From the perspective of the BOCES with the population we serve, I think it's pretty easy to reach the conclusion that the standard of living in Herkimer County is better because of ICAN's role," Herkimer BOCES Pathways Academy Principal Patrick Corrigan said. "It's very easy to see how they impact the community, and living in Herkimer County would be different, negatively, if we didn't have ICAN in the community. They are really looking out for people who otherwise would be unable to meet their needs."
The collaboration between Herkimer BOCES and ICAN started with the creation in 2016 of the ARCHES program and has blossomed from there into a multifaceted partnership that benefits students, families and the larger community.
Matthews said ICAN has made a difference by empowering students and families to grow both academically and socially.
"They've been a consistent, supportive partner," Matthews said. "They are always willing to work with us. We call them several times a week and describe a need, and they're on it. It's just a wonderful resource for our BOCES. And we use it."
ICAN operates 21 programs across six counties and works with more than 2,000 families every day, Bulger said.
"We like to say that we're an innovative home and community based provider of intensive family services, and those services that we provide range all the way prenatally through end of life," Bulger said. "Everything that we do as an agency is geared toward keeping families together, so we want to provide the right services at the right time to ensure that children can stay in their community, their home and their school. We'll always go above and beyond to make sure we can meet that vision."
'The need was there'
The first cooperation among ICAN and schools in the Herkimer BOCES region started when some schools were having difficulty finding teacher aides. ICAN staff stepped in and conducted teacher aide work at schools, Bulger said.
ICAN officials and educators in the region also recognized that something new was needed to fill the void that had existed since the state closed day treatment facilities in New Hartford and Verona in 2009. These facilities were for local students with intense emotional and behavioral management needs. The facilities had provided mental health, psychiatric and therapy support all in one location and did as best as they could, Bulger said. But they weren't as therapeutic or nimble as they could have been and had a number of restraints and often placed students in seclusion, he said.
The local conversation turned into a meeting among state officials, ICAN, Herkimer BOCES, Oneida-Herkimer-Madison BOCES and Madison-Oneida BOCES in the spring of 2016. State officials said that if BOCES wanted a new program, they would have to create it, fund it and partner with a community-based organization, Bulger said.
"By the fall, we had classes opened up in Madison-Oneida BOCES and Herkimer BOCES, and that was really the start," Bulger said. "It was that green light that we were able to get collaboration between all the local BOCES and our partners at the state level."
State Sen. James Seward also secured a $50,000 state grant to help launch what would become the ARCHES program.
The program started in September 2016 at Herkimer BOCES with one class and two students. It has now grown to four classes and 24 students – with two classes at the Herkimer BOCES WEB Complex and two at the Pathways Academy. ARCHES currently serves students in grades 4-11. A fifth class is expected to be added next school year.
"When things got rolling and people saw how the resources worked and how it could really help those kids that were just kind of falling through the cracks, they started sending us kids, and we started more programs," Matthews said.
Bulger also reflected on ARCHES' growth.
"The need was there – just desperately needed," Bulger said. "And for it to evolve into what it is right now and what Herkimer BOCES has taken it to is just even beyond what we had thought that it could have been. It's just amazing to see all the services and things that are pushed in – the social-emotional needs being met by BOCES, by the schools, to really meet the kids where they're at."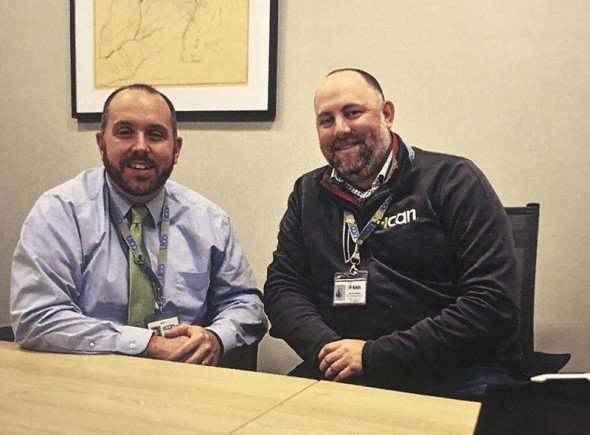 'This level of support'
Butler said it's been remarkable to see the ARCHES program regularly add more classrooms, and the incredible growth leads to a higher level of student support due to increased overall staffing.
Each ARCHES class has six students, a teacher, a teacher aide, a behavioral specialist, daily support from a clinical care coordinator and regular access to a psychiatric nurse practitioner who works closely with students and families on medication management. The teachers and teacher aides are BOCES staff, and ICAN currently provides four behavioral specialists, two clinical care coordinators and one psychiatric nurse practitioner. For students and families, the mix of BOCES and ICAN employees is presented as one cohesive team.
ICAN helps with wrap-around services such as mentorship, behavior management and morning wake-up assistance, Matthews said.
"Our region and students have benefitted from this collaborative team approach," Matthews said. "Having this level of support for students enables them to get the care that they need while being educated close to home."
Bulger said he and Butler have had the opportunity to present about the ARCHES model, which has gotten a lot of attention on the state and national level. The ARCHES program also received a Program of Distinction Award from The Genesis Group of the Mohawk Valley in 2019.
Bulger said BOCES leadership – including Matthews, Sherwood, former District Superintendent Mark Vivacqua and Assistant Superintendent for Administrative Services James Picolla – have been forward-thinking, innovative and supportive throughout the development and growth of ARCHES.
"Roberta has been that common thread through all of that – this program, these collaborations, none of it would happen if Roberta didn't have the vision and really the dedication to make it happen," Bulger said. "For me, to know the pandemic we're in right now and we're coming out of, the social and emotional needs that kids have today compared to what we knew or thought they needed when the program first started – in today's world, I can't imagine where kids would be if they didn't have a program like this."
'The semblance of hope'
ARCHES aims to help students with earning credits, stabilizing relationships, developing employability skills and improving emotional management, Corrigan said. Whenever possible, the goal is to translate those initiatives into academic success and diploma acquisition, he said.
"The mission for Herkimer BOCES is to provide opportunity for growth at all levels of talent and need, and in that sense, ICAN is a perfect partner," Corrigan said. "A perfect example of that is their role with our ARCHES program."
One current example of a success is an ARCHES student who used to just sit at a desk at school breaking pens but improved behavior through ARCHES and now participates in a Herkimer BOCES Career and Technical Education class for half of the school day.
"It's beyond our wildest dreams," Corrigan said.
Butler said part of the goal for ARCHES is also to move youth to the least-restrictive class environment as possible –whether that be to a different type of special education class or back to their home district. Many students, however, will remain in ARCHES for years, he said.
"I think when people try to define success, they're looking for a child that maybe was struggling mightily and all of a sudden has no more struggles, and that's not the reality of where we're at," Butler said. "We're taking the highest needs youth, and what success might look like is they're able to do 15 minutes of academic instruction per day, whereas in the past they might have only been able to do two."
Much work continues to be done to shift adults' mindsets away from the idea that students with management needs should be punished for poor behavior, Butler said.
"Well, for many of these kids, the traditional consequences weren't working," Butler said. "What they needed was support. The other thing too with our organization that I think we bring to the table is we approach everything with a trauma-informed lens. In many respects, for these young people, this is the first time they and their families have been met with a trauma-informed approach to how we support youth and how we provide service."
ICAN staff have the benefit of not directly being the school district or government, so they can act as independent arbiters for families, he said.
"They're approached in a completely different way where they're invited to the table to serve as really experts on their own children," Butler said, adding that ARCHES staff focus on sharing positive news about students with families more than updates about misbehavior. "It just shifts the whole thing. And with that, it creates the semblance of hope – that there is hope for these kids."
The success of ARCHES and related efforts for students is evidenced by the engagement seen from youth in the program, Butler said.
"In many ways, the program is exactly what has been needed for a lot longer than it has been around," Butler said. "We really did flip an old, kind of archaic model of how we treat our highest needs kids in public education and we shifted – really, in a short period of time – from a traditional kind of punitive-based, accountability-based model to one that's more strength-based and supportive, focusing on what children and families do well."
'More resources'
The partnership between ICAN and Herkimer BOCES encompasses many other aspects in addition to ARCHES – including grant opportunities sought after together, trainings provided to Herkimer BOCES staff and students, ARCHES behavioral specialists at the WEB Complex supporting other youth on an as-identified basis, members of the ICAN team at Pathways Academy joining meetings and other efforts to offer clinical support, the psychiatric nurse practitioner providing counsel and ICAN connecting students to other ICAN or county services.
"Part of the beauty of the partnership between ICAN and BOCES is once we're in there and we really create a foundation for a program, that allows us to expand and grow and launch into different angles," Butler said. "That partnership allows that to be seamless."
ICAN aims to provide supportive services within the ICAN family or available elsewhere in the community, Bulger said.
"It's all about bringing more resources," Bulger said. "That was one of the promises that we made early on in the collaboration that we would do everything within our power to bring additional supports in, so it's not completely dependent on the schools."
Matthews said it's helpful to have ICAN's support in various ways.
"We can just pick up the phone, and we've got resources, so I always want that pipeline to continue because we've got needy families and students," she said.
Corrigan said the extra support from ICAN makes a big difference for students across Pathways Academy – including the ability to connect students to community services.
"It's nice to have a partner that says yes more often than they say no," Corrigan said. "More often than not, I'm like, 'You guys can do that?'"
One joint grant opportunity that was recently funded was for Teen Outreach for Regional Community Health (TORCH), which is allowing Teen Outreach Program (TOP) clubs to be launched this spring for all of Pathways Academy – not just for ARCHES students.
"That's not just going to be our ARCHES program," Matthews said. "That's going to be all of Pathways, so we're pretty excited about that."
Separate ICAN teams will push into Herkimer BOCES for the TOP clubs, which are for students ages 13-19 and take place for 32 weeks each school year. The TOP clubs are being worked into the school day schedule for students.
For half of the time, students will be doing social, emotional and skill building lessons with ICAN's TOP facilitators, and the other half of the time, they'll be working with the facilitators on community service learning – including direct and indirect projects to help the community, Butler said.
The growth of the partnership between ICAN and Herkimer BOCES has also allowed ICAN to expand its work in Herkimer County for the community, to establish a building in Herkimer, to start providing services at Herkimer College, to set up a behavioral specialist in a Fulton County school district and more, Bulger said.
"I know for a fact we wouldn't be doing any of that if we hadn't established a relationship with Herkimer BOCES," Bulger said. "None of that would have been possible."