/
ICAN's Evelyn's House Program Receives $20,000 Health Equity Award from Excellus BlueCross BlueShield
ICAN's Evelyn's House Program Receives $20,000 Health Equity Award from Excellus BlueCross BlueShield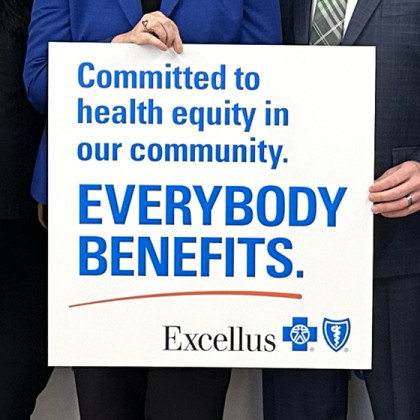 ICAN announces today the receipt of a Excellus BCBS Health Equity Award

to support Evelyn's House - ICAN's joint transitional and rapid rehousing program for homeless women, aged 16-24, who are pregnant and/or parenting.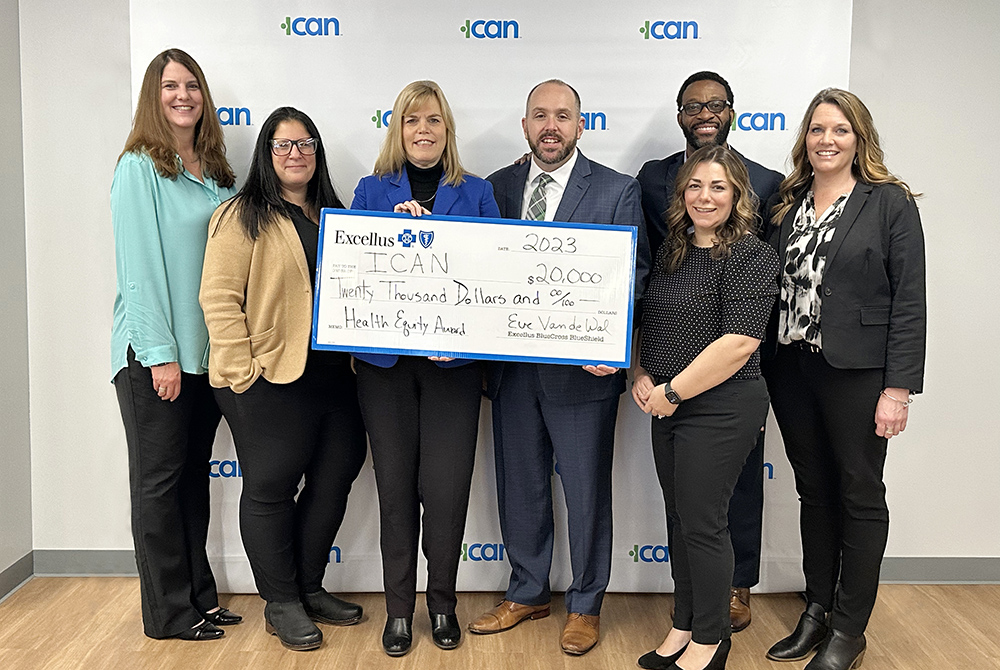 In photo from left to right:
Shayna Keller, Excellus BCBS Community Investments & Partnerships Manager; Allison Jackson, ICAN Chief Program Officer; Eve Van de Wal, Excellus BCBS Regional President; Steven Bulger, ICAN CEO/Executive Director; BJ Adigun, Member of ICAN's Board of Directors; Lisa Reginelli, ICAN Director of Transitional Services and Rosetta St. Peter, Evelyn's House Housing Manager.
Excellus BCBS Health Equity Award funding supports underserved populations with health disadvantages due to race, ethnicity, disability, sex, gender and/or rural disparities. Award categories include, but are not limited to, improving the community's physical health and mental health, reducing social disparities in health care, and ensuring access to health care services. Grant recipients were selected based on clear, defined goals and measurable results for reducing health disparities and improving health equity.

The award will help Evelyn's House accomplish three goals:

1) Raise awareness about Evelyn's House in communities of color to increase access through a social media and community-based marketing campaign.

2) Continue to deepen Evelyn's House staff's understanding and inclusion of racially and culturally relevant practices by engaging in trainings on racial equity, maternal health, and housing programs.

3) Elevate the voices of recent Evelyn's House graduates by expanding our current Evelyn's House Graduate Peer Support Program, through which those who have graduated from the program to live independently in the community are compensated to serve as peer mentors to current residents.

Eve Van de Wal, Excellus BlueCross BlueShield Regional President shares, "We are proud to further our commitment to health equity by supporting ICAN's Evelyn's House program. Their work helps reduce inequities among communities of color by providing access to safe, nurturing transitional housing and support services in a racial and culturally competent environment."

ICAN CEO/Executive Director Steven Bulger adds, "Evelyn's House is one of ICAN's most unique offerings and our only residential program. Diversity, Equity, Inclusion and Belonging work threads throughout all of our agency's work and is a continued commitment in our strategic planning and emphasized in every day care for our clients, staff and culture. To be able to utilize this generous grant from Excellus BCBS to advance both will make an impactful difference for us."

For more details on the grant, please visit Excellus BCBS's website
ABOUT EVELYN'S HOUSE
Evelyn's House is a joint Transitional and Rapid Re-Housing program for homeless young women, ages 16-24, who are pregnant and/or parenting. The program helps develop the personal, familial and community-based resources and networks of young women in our care and builds the skills of clients through progressively challenging training and experiential learning. The ultimate goal is to support young women in becoming self-sufficient through access to employment, permanent housing and natural, community-based supports.
ABOUT EXCELLUS BLUECROSS BLUESHIELD
Excellus BlueCross BlueShield, an independent licensee of the Blue Cross Blue Shield Association, is a nonprofit health plan with 1.5 million upstate New York members. The company's mission is to help people live healthier and more secure lives through access to high-quality, affordable health care. Its products and services include cost-saving prescription drug discounts, wellness tracking tools and access to telemedicine. With more than 4,000 employees, the company is committed to attracting and retaining a diverse workforce to foster innovation and better serve its members. It also encourages employees to engage in their communities by providing paid volunteer time off as one of many benefits. To learn more, visit www.ExcellusBCBS.com.