/
ICAN's Evelyn's House Receives Community Health Award from Excellus BlueCross BlueShield
ICAN's Evelyn's House Receives Community Health Award from Excellus BlueCross BlueShield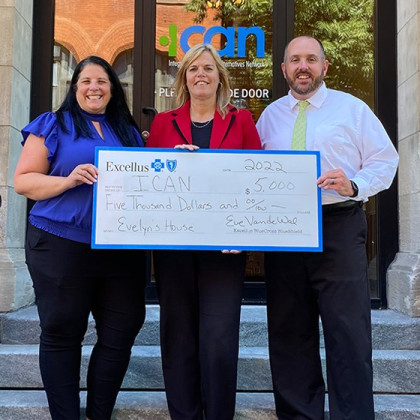 Evelyn's House – ICAN's joint transitional and rapid rehousing program for homeless women, aged 16-24, who are pregnant and/or parenting – received a $5,000 Community Health Award from Excellus BlueCross BlueShield. The award has helped promote health and well-being with the women and children at Evelyn's House through service coordination and linkage to community-based providers.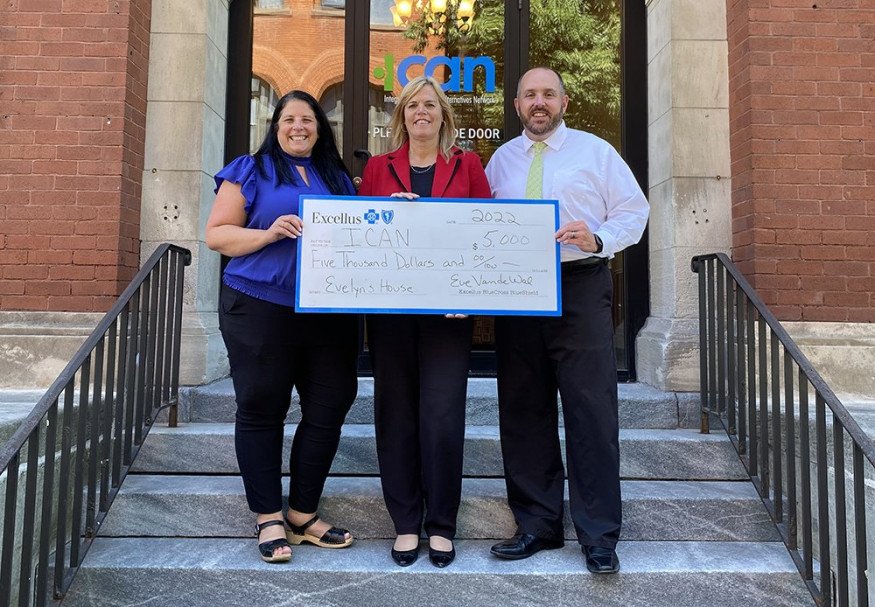 "Funding and support that can directly affect increased health and well-being is extremely imperative to the success of the women in our program," shared Steven Bulger, CEO/Executive Director at ICAN. "A healthy and empowered mother can help her child get a healthier start in life and that ultimately produces stronger families and communities."


Through a competitive application process, Excellus BlueCross BlueShield's Community Health Awards provide funding to launch, expand, and sustain programs and services that promote health. These investments advance health equity by extending the reach of preventive health services or health-promoting programs to vulnerable populations. The health plan's corporate giving follows all applicable laws and regulations and does not support funding organizations that conflict with its corporate mission, goals, policies, or products.


"The company's Community Health Awards demonstrate a corporate commitment to support local organizations that share our mission as a nonprofit health plan," said Eve Van de Wal, Utica Regional President of Excellus BlueCross BlueShield. "We recognize that addressing social determinants of health, such as adequate housing, is vital to the health and wellbeing of our communities and we are pleased to support ICAN with this essential community health funding to provide safe, nurturing transitional housing and support services for mothers and their children."


ABOUT EXCELLUS BLUECROSS BLUESHIELD
Excellus BlueCross BlueShield, an independent licensee of the Blue Cross Blue Shield Association, is a nonprofit health plan with 1.5 million upstate New York members. The company's mission is to help people live healthier and more secure lives through access to high-quality, affordable health care. Its products and services include cost-saving prescription drug discounts, wellness tracking tools and access to telemedicine. With more than 3,500 employees, the company is committed to attracting and retaining a diverse workforce to foster innovation
and better serve its members. It also encourages employees to engage in their communities by providing paid
volunteer time off as one of many benefits. To learn more, visit ExcellusBCBS.com.


ABOUT EVELYN'S HOUSE
Evelyn's House is ICAN's joint transitional and rapid rehousing program for homeless women, aged 16-24, who
are pregnant and/or parenting. At Evelyn's House provides a safe, nurturing home with supportive services and
community resources for these young women and their children during and after pregnancy, so they can become empowered during this transitional life moment.
While at Evelyn's House, young mothers receive intensive case management, including evidence-based parenting classes and other classes to prepare them for employment, nutrition, health and wellness plans, mental health treatment and obtainment of permanent housing.


PHOTO CAPTION
From left to right: Allison Jackson, Chief Program Officer at ICAN; Eve Van de Wal, Utica Regional President of
Excellus BlueCross BlueShield and Steven Bulger, CEO/Executive Director at ICAN.