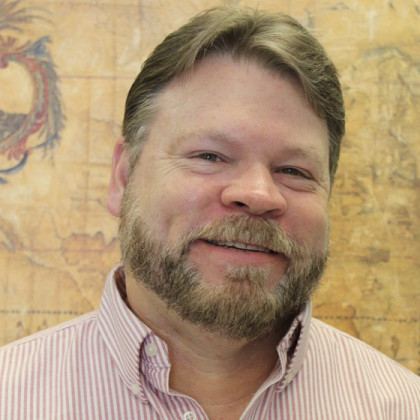 Tom is a social worker at Utica City School District at Jefferson Elementary, is the owner of Joslyn Enterprises, LLC and a provider in ICAN's IPA network.
He was born in Rome, grew up in Utica, graduated from Utica Free Academy and attended local colleges: Mohawk Valley Community College for a degree in criminal justice, Utica College (now University) for a degree in Psychology and then University of Albany for his degree in Social Work.

An interest in social work was sparked in him when he was just a kid and he met someone who became very influential in his life in sports. He was a family friend and he was a social worker, so Tom got a chance to see that work in action firsthand.

Tom's career has led him to work for other local non-profit agencies and Oneida County Child Protective Services. He left social work for a while and was a Financial Advisor for American Express, but was drawn back to it in the mid 2000s and was back in the school district in 2013.

Tom shares that social work is a challenging career. No two situations are alike and it's extremely difficult to schedule your day because you never know what will arise. His approach is that everybody matters and working in this space allows you to make the world a better place – sometimes with small moves forward and other times with huge breakthroughs.

He has a strong sensitivity for families and individuals who are striving to do better in their lives, who are taking opportunities to break cycles and are seeking positive change for themselves and those around them.

He has been working with ICAN since 2009 (when we were Kids Oneida) when he started Joslyn Enterprises, LLC, which today has 12 employees. Some who work with him are full time and others are part time while working during the day as social workers themselves, teachers, school guidance counselors and more. The need is great and the work is endless! His team provides all of the services of ICAN – therapy, behavioral management, mentoring and more – to individuals and families. Tom himself focuses on working with boys and young men, but his team has males and females to successfully work with a wide array of clients. Joslyn Enterprises covers a large geographic area and work with clients in Oneida, Herkimer and Madison Counties.

He and fellow IPA provider Dave Calhoun have led supportive work groups with ICAN – a program that gives young adults the opportunity to learn on the job training, socialization and soft skills to be better prepared for the competitive work force. They took part in intergeneration clean ups and other community-based work and the kids loved it. There is hope to get these groups going again once it is safe to do so post-Covid.

Tom enjoys working alongside ICAN because the agency is passionate about community involvement and supporting families. ICAN provides referrals of clients and back office support, which helps individual IPA agencies work more efficiently giving them more time to work directly with clients.

For those considering becoming part of the IPA network or exploring mentoring, Tom will tell you it's worth it. His opening line is most often, "How would you feel about yourself, if you could make a life-changing and positive difference in a child's life?" The kids are going to look up to you, you will become close with them and you will be a positive role model in their lives. You will be proud of the work you do with kids and you will be given the opportunity to make change.

Some fun facts about Tom:
He has three adult children, ages 31, 25 and 20 and a seven year old granddaughter
He is a longtime ice hockey coach, officiates high school and college hockey and has played in men's leagues
He is a lover of the outdoors: hunting, fishing, kayaking, snowmobiling and more
He loves winter!