/
GPO Federal Credit Union Commits $75,000 to ICAN's New Family Resource Center and Children's Museum
GPO Federal Credit Union Commits $75,000 to ICAN's New Family Resource Center and Children's Museum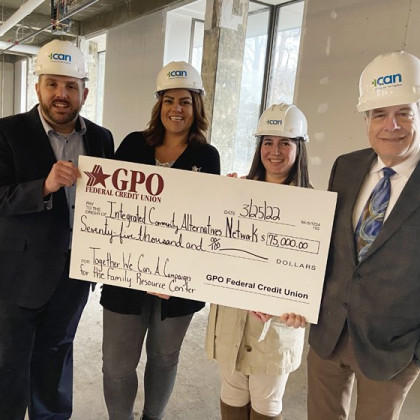 GPO Federal Credit Union has committed $75,000 to ICAN's Family Resource Center, which will also house
a new, state-of-the-art Children's Museum.

GPO's $75,000 gift sponsors the balcony area of the facility, which will give a bird's eye view of the new glass rotunda and will serve as the main entrance to the brand new museum exhibit area. The donation contributes to the overall project total of $14 million, which includes site improvements, museum exhibit design and the addition of the rotunda—a signature architectural element on the south side of the building at 106 Memorial Parkway, Utica.

"Giving back to the community is at the heart of GPO Federal Credit Union. We recognize that being a part of the communities we serve means more than just meeting the financial needs of members. To us, it means embracing what we all hold dear – family; health and well-being; financial fitness; and an overall good quality of life." Says Nick Mayhew, President and CEO of GPO Federal Credit Union. "GPO is proud to create this partnership with ICAN benefiting their new Family Resource Center and Children's Museum which will help make a positive impact on many families in this community."

ICAN CEO/Executive Director Steven Bulger adds, "GPO's generous gift shows their commitment to families in the Mohawk Valley and to providing a space for fun, togetherness, learning and so much more. The balcony is an important area in our new space, as it will serve as the bridge between the new rotunda addition and the main floor of the museum, welcoming all visitors to the museum. We are very grateful for their support of the project."

ABOUT GPO FEDERAL CREDIT UNION
GPO Federal Credit Union was founded in 1931, and today serves more than 35,000 members by offering a full-range of financial services. Headquartered in New Hartford, GPO has branches in New Hartford, Utica, Oneida, Ilion, Dolgeville, Barneveld and Rome. Learn more

PHOTO CAPTION
From left to right: Steven Bulger, ICAN CEO/Executive Director and from GPO Federal Credit Union: Courtney Walchusky, Vice President of Marketing and Business Development; Alycia Schick, Community Relations Coordinator; and Nicholas Mayhew, President/CEO.

They are photographed on the second floor of the Family Resource Center. Directly behind them is where the balcony will be built.