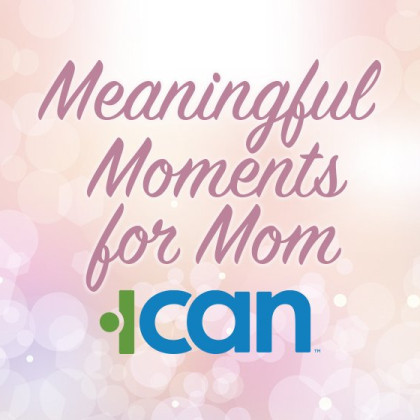 Mother's Day is RIGHT around the corner, but there's plenty of time to plan something meaningful this year. Moms everywhere have REALLY been working overtime with a lot more responsibilities and stress through the pandemic. With it also being Mental Health Awareness Month, thinking about mom's mental well-being is a must!

Moms love making great memories with their families and these ideas below are just a start to get you thinking creatively about how you would like to celebrate and thank your mom, stepmom or mom-figure on Sunday. Enjoy the day and have fun making Meaningful Moments!
Cook her dinner
No matter if you're specialty is just grilled cheese, or you can make something much more gourmet, make it a night! Do some fancy plating, light some candles and set the table beautifully. NO electrics allowed! She will appreciate the effort and the time spent together.

Gift her a morning, afternoon or evening to herself!
Plan to get the family out of the house and leave mom some peace and quiet AND instructions to not do any housework or tasks for others!
Play a board game
Pull out a game you love playing as a family, serve up some tasty snacks and dive in!
Take a drive to take a walk
Drive somewhere, park and walk together explore a new downtown, neighborhood, trail, lake, etc. If you can, grab some ice cream or stop by a local coffee shop. Sit down along the way on a bench and take it all in. And don't forget to take lots of photos!
Print some family photos
We're not printing as many photos as we used to and so many great memories are hidden away in digital-land. Borrow her phone, grab a handful of great photos, get them printed and present them to her in a photo book or a frame. Spend some time going through each one and recalling a fond memory of the day it was taken.

Make a Mom Video
Gather up yourself, your kids, siblings, parents/step-parents or anyone else special in your mom's life and record yourselves saying some nice things about her. Edit it with whatever you have available - there's some fun apps where you can add music and graphics.
Compile her "Magnificent Mom Moments"
Make a card, or write out on paper some of the most memorable, "magnificent" things you remember about your mom – little gestures she did that she may not recall doing, something she said that you'll remember forever, a goofy thing where you pretended to be embarrassed by her but really thought it was hilarious.
Write for Mom!
If you love writing, singing or performing, putting together a poem, song or even a rap about your mom could be creative, fun and certainly memorable! Get the whole family in on it and put on a special show in your living room. Recording it to watch over and over again is a bonus!