/
Spotlight on Our Healthy Families Program
Spotlight on Our Healthy Families Program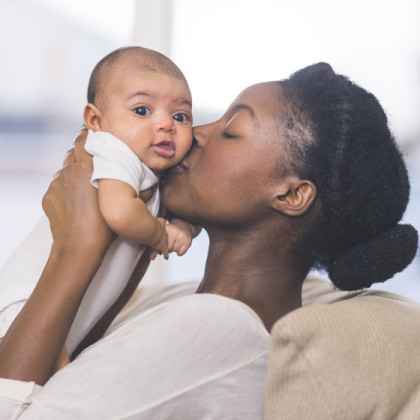 April is National Child Abuse Prevention Month. The theme throughout the month is to emphasize the importance of communities working with families to prevent child abuse and neglect through public awareness, training and technical assistance which remove barriers to healthy parenting.
ICAN's Healthy Families Program, which operates in Oneida, Herkimer, Montgomery and Schoharie Counties, is an evidence-based, preventative program that gives families a strong foundation right from the very start!
What is Healthy Families?
Healthy Families is a free and voluntary program and works with families with newborns to children aged five to meet the challenges of parenting.
This includes:
enhancing positive parent involvement
explaining a child's development
building confidence in parenting skills
connecting families community resources and more
How Does Healthy Families Help?
Research shows that home-visiting can positively impact the lives of children and their families.
Families have healthier babies
Their relationship with their child improves
Families create positive bonds
They are more likely to use appropriate discipline
They are better able to deal with their child's difficult behavior
Children enter school ready to learn and perform better in school
How Healthy Families Prevents Child Abuse
"Healthy Families is an incredibly unique program that focuses on families' strengths and building upon those strengths. Parents need role models, mentors, someone to listen, someone who sees their strengths, believes in, and shows up for them," shares Doreen Cole, program manager of Healthy Families Oneida County. "In ideal situations, families have people in their lives who can provide this for them, but when they don't, Healthy Families is here. It is our hope to do all that we can to provide families with support, education, and resources to lower their stress, therefore reducing the risk of child abuse from occurring. I see the successes of the program big and small every day."
Healthy Families embraces the Wraparound model for all of our care, services and programs. Our staff works collaboratively to develop and implement customized service plans for the individuals and families in our programs, and each team member contributes to our client's successes. At ICAN, we strive to empower and support individuals and families facing life challenges, by providing them with the tools to make the best decisions for themselves and their families. We assist them with succeeding in any goal they may have set, whether it be recovering from addiction, finding success in the classroom, creating a healthy home for their family as they anticipate the birth of a child, or seeking support and community resources, all while keeping families together as they progress through traumas. We connect individuals and families with critical community resources such as access to physical and mental health providers, employment opportunities, housing options, peer support groups, and other services. We understand that access to some of these services can be difficult to attain during certain life challenges, and we are here to help individuals and families overcome this obstacle.
Bringing Families and Communities Together
"I knew I wanted to be out in the community helping others as much as I can and spreading smiles along the way," shares Kelley Langworthy, program manager of Healthy Families Herkimer County. "There is no greater joy than being able to spend time with the families of our community during the most exciting, joyful and worrisome experience of their lives – becoming parents! Helping to create strong bonds and lasting memories for families, those smiles are priceless!"
Together as a team, and family, ICAN works with families to implement preventative steps to avoid child abuse in all forms and keep families together. "I want to make a difference and it starts with engaging with the community and lifting them up," shared Nicole Eshler, program manager of Healthy Families Montgomery and Schoharie Counties. Staff and families alike become like family through the close nature of this work.
How to Enroll in Healthy Families
Look for our surveys (referral forms) on our website, throughout the community (prenatal clinics, WIC, doctor's offices, etc.) or contact a Healthy Families team member:

Oneida and Herkimer Counties: (315) 792-9039
Montgomery and Schoharie Counties: (518) 317-2553