/
Spotlights on Local Partners and Leaders for Hispanic Heritage Month
Spotlights on Local Partners and Leaders for Hispanic Heritage Month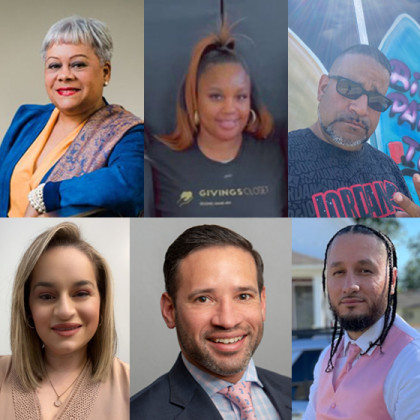 ICAN is proud to know and to partner with many wonderful individuals in the local Hispanic community. We would like to introduce you to a handful of them who we work with in many capacities – from banking partners, board members and non-profit leaders to a staff member doing great things beyond her ICAN work and a new acquaintance that is helping curb gun violence.
Israel Acosta

Retail Regional Manager, M&T Bank
Oversees all M&T Bank Branch distribution network in the Mohawk Valley
Community Connections
Israel is the past president and current dedicated member of the Utica Rotary Club.
He participates in the Real Men Wear Pink campaign and organized the first annual Real Riders Wear Pink bicycle ride for the American Cancer Society. Israel is also a board member of the Utica Children's Museum.
How have you seen the impact of the Hispanic community in the Mohawk Valley?
In my area of banking in particular, I have seen more Spanish-speaking people in our branches. M&T Bank has designated downtown Utica and North Utica as multi-cultural branches. We have our own certification process for our Spanish-speaking employees, specifically geared for banking conversations. Employees who are interested can take the course, pass the test and become certified, which also results in an increase in salary for them.
What would you like to see in the future for the local Hispanic community?
A goal for me would be to see more integration of the Hispanic community with the entire Mohawk Valley community. The Hispanic community tends to stay within itself and target their businesses to a very specific customer. I'd love to see them become a trusted part of the fabric of our area and we are here for anything we can do to help that.
Four fun facts about Israel:
1) He does horseback guided tours in Eagle Bay, NY
2) Loves cycling including road biking and mountain biking
3) Love his pups – Cedric (Black Lab) and Tank (Chocolate Lab)
4) He starts his day with coffee and ends with wine
________________________________________

William "Big Papi" Castaneda

Owner and operator - Big Papi's Coquito Iceys
Big Papi is of Puerto Rican and Dominican descent and grew up in the Bronx and Middletown, NY. In 1999 he was a bridge painter in New York City, working on the George Washington Bridge and other large projects. "There weren't too many opportunities for inner city kids to make good money working nine months out of the year and being part of a union!"
He eventually moved to Albany "kicking and screaming" and then came to the Utica area in 2005. He runs Big Papi's Coquito Iceys, featuring authentic NYC sorbets, which is the flavor of great childhoods in the city and of a simpler time. You can see him pop up at many of the area's festivals or on the corner on Mohawk Street, always with his big, welcoming personality and delicious treats. He also operates in Florida year round, he himself traveling there to run the business during the winter.
Thomas Edison's assistant wrote a book that he read when making the decision to start his own business that helped him take the leap. It said "opportunity doesn't come around at perfect timing, it comes around during chaos."
Community Connections
William was a facilitator for marriages for the Third Option Program at the Good News Foundation and is an advocate of "grown men sharing their feelings!" He was also a member of the Oneida County Referees Association for Pop Warner.
How have you seen the impact of the Hispanic community in the Mohawk Valley?
I see Bleecker Street really filling out with Dominican-owned businesses, which is great.
What would you like to see in the future for the local Hispanic community?
I'd like to see more Hispanic brick and mortar businesses in the city and more support of each other - a lot of business owners stay more under the radar, but I want to have a presence! When I'm operating my business in Florida, I see the robustness and the impact of Hispanic culture and there's festivals and pop up events everywhere. It makes the community so joyful!
Fun facts about Big Papi
He has five children, ranging in age from 29 to 14 months

He has two shih tzus - Chloe and Sophia

He loves art

He's a gamer!

He loves to find peace in the day, even if it's simply spending 45 minutes on his mom's hammock in Florida!
________________________________________

Angel Martinez

Founder, Angel Martinez Foundation
Angel was born and raised in Utica and graduated from Proctor High School. His family is originally from Puerto Rico and after moving to New York City, they made their way upstate to Utica.
Angel has worked in the human services field for many years, spending several years working with youth and teens and he is now working with adults. The common denominator - he loves helping people. He feels his purpose is helping young and troubled teens and creating a platform and opportunity for them to be able to make a good life for themselves.
Community Connections
His passion is apparent in the extensive community work he does. Through the Angel Martinez Foundation, he runs signature annual events in the Utica area like a Kickball Tournament that focuses on gun violence, a Back to School book bag and school supply drive and a toy drive at the holidays. He recently partnered with the team at Cornhill Cares to throw the inaugural Souls of Cornhill event which featured an array of BIPOC-owned businesses, culture, food and more. ICAN tabled at the event and learned more about Angel's mission.
He loves creating activities and events where families and children can enjoy time together. He has a new Father/Son Two-On-Two Basketball Tournament coming up at the end of October.
How have you seen the impact of the Hispanic community in the Mohawk Valley?
"I see the efforts Sonia Martinez does every year with MVLA like the Latino Festival at Hanna Park. Talk about impact! There aren't a LOT of big festivals or things the Hispanic community in this area does right now - to grow it we need to first show up fo reach other and build relationships!"
What would you like to see in the future for the local Hispanic community?
"I would like to see more people becoming involved in any way - by helping plan things, participating with their businesses or time and talent, or like I said - simply showing up to events. I hope that by young people seeing me being Hispanic and diving in to be involved in the community, I can help inspire and influence them to step up and become leaders."
Fun facts about Angel
He loves sports - playing with the kids and watching them on TV

He has four children, ranging from age 14 to a new baby on the way!

________________________________________

C Sonia Martinez

Executive Director of the Mohawk Valley Latino Association (MVLA)
I am 100% Dominican. I was born in the Dominican Republic to Dominican parents.
How long have you/your family been here in the Mohawk Valley/Utica area?
I have been in the Mohawk Valley since 1977, so over 40+ years.
Community Connections
How do they give back to the community? I give back by getting involved in my community through joining different boards, participating at community neighborhood meetings, and collaborating with different populations. I love to show everyone the beautiful and rich diversity of so many different countries represented in the Mohawk Valley.
How have you seen the impact of the Hispanic community in the Mohawk Valley?
Oh, definitely! I have been raising the awareness of the Latino community for more than over 10 years through the MVLA organization. When I first started the Latino population was only 3-4%, now we are about 38% of the City of Utica's population according to the 2020 U.S. Census. Also, if you just walk around Bleecker and Mohawk Streets, you'll see the small businesses of Latino owners have more than tripled in the last five years.
What would they like to see in the future for the local Hispanic community?
The Latino community would like to be treated equally everywhere they go in the Mohawk Valley. They want to be acknowledged and given respect for what they have brought here. We've brought a large number of small businesses, beautiful neighborhoods (we have purchased many homes, new and old) and work very hard at every job.
Hobbies/Something not many people know about you:
I love to read and cook, but I don't get to do that too much.
________________________________________

Chemy Rodriguez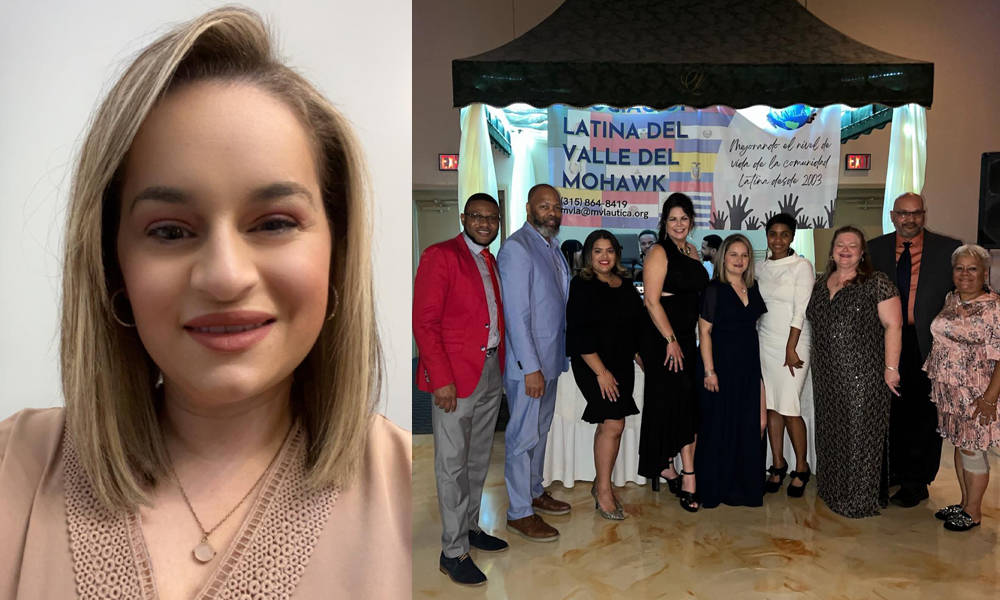 Branch Manager, Adirondack Bank
Background: I was born and raised in Ponce, Puerto Rico.
How long have you/your family been here in the Mohawk Valley/Utica area?
My family and I moved to Upstate New York around 17 years ago.
Community Connections
How do they give back to the community? I have been involved in the Mohawk Valley Latino Association for almost 4 years. I started as a member volunteering, then became the board secretary. After many years of dedication to this organization, I am now proud to call myself the board president.
How have you seen the impact of the Hispanic community in the Mohawk Valley?
Within the last few years the Hispanic community has grown so much in the Mohawk Valley. We are now seeing more Hispanic owned businesses which has created beautiful diversity in this area. What once was a small Spanish population in upstate CNY is now a flourishing community.
What would they like to see in the future for the local Hispanic community?
My goals and dreams for the Hispanic community is to provide as much help, guidance and assistance. From my first job which was working in retail to now being a branch manager of Adirondack bank, I often think back on when my journey began 17 years ago. Through perseverance, hard work and the support for my family, I'm proud to have accomplished many of my goals. I hope to offer the same to Hispanic community especially those who are in the beginning of their journey.
________________________________________

Jesenia Wright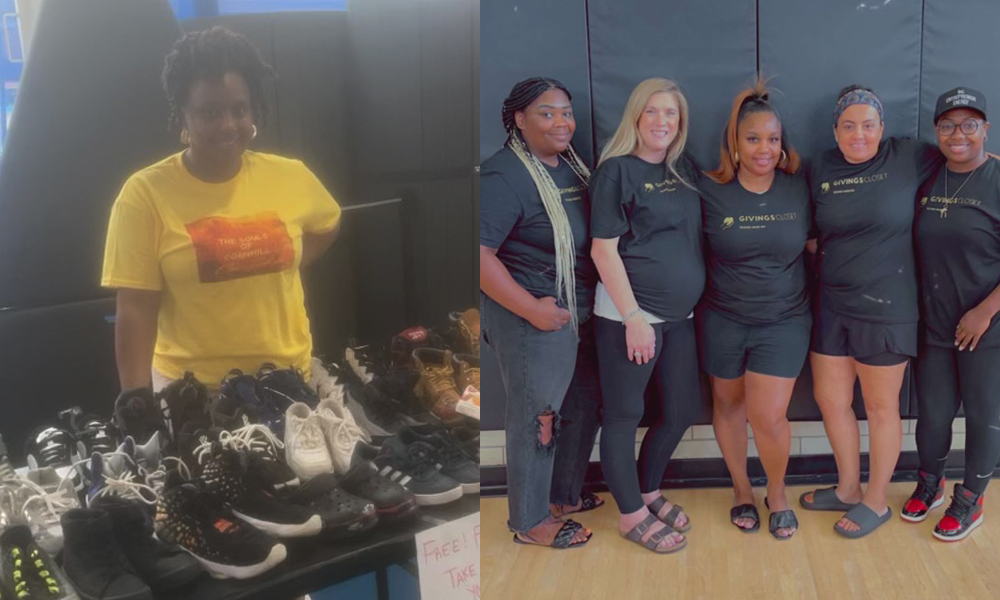 Founder, Givings Closet
Jesenia was born and raised in Utica. Her family is originally from Rio Piedras, Puerto Rico. Her mom came to the United States when she was 11 and had to learn to read, write and speak in English. Her grandmother moved here in her 30s and her English language is very limited. Her grandmother, mother and aunts are all in Utica. She's been to Puerto Rico twice to visit her mom's family on her father's side. She the second oldest of four.
Jesenia is a social worker and under the umbrella of social work there are many different roles you can have at an organization. She is an ACT Team Lead at ICAN and also a therapist in ICAN's Independent Practice Association (IPA).
How long have you/your family been here in the Mohawk Valley/Utica area?
My family has been here 53 years, since 1980.
Community Connections
I give back to the community through my non-profit GivingsCloset. As of July 2022, it was established as a non-profit. I collect gently used clothing and footwear and donate them to community members of all ages. Sometimes people will reach out to me needing something specific, like for a 10 year old boy of a certain size. Sometimes I post on GivingsCloset Facebook page that I'm accepting donations. People may end up giving clothing and shoe donations as well as monetary donations. I started this organization in 2016 because, as a child, my family relied on community resources like the Salvation Army for clothing and Hope House for food. We went to different food pantries for food. My family participated in Operation Sunshine to provide Christmas gifts. Churches also helped out because there were certain days a week where you could pick up clothes. Mostly everything I had as a child were hand-me downs. There were seven days in a week, but I often had only three outfits. So, I know what that feels like as a child. If you look good, you feel good. I remember having community resources that helped me. No one's going to feel good going to school or work in something that looks worn.
I think what sets me apart from a lot of other resources in the community is that I'll bring items to you… to families. And I try to respond to them within 24-48 hours. A lot of clothing resources require people to get to them and lots of people in the community don't have the transportation.
How have you seen the impact of the Hispanic community in the Mohawk Valley?
I feel like it brings diversity. And I feel like the Mohawk Valley brings a sense of security for families who come here to a place that's more established. That gives people hope. A place like the Mohawk Valley Latino Association can help with barriers like language. Our community also brings food because of the different restaurants and [Hispanic] countries represented in our area. We bring a new language. Instead of frowning down upon someone who speaks a different language, be patient with them or help educate them. There are things where you may need someone to be patient with you, do that with other people.
What would they like to see in the future for the local Hispanic community?
Unity amongst each other. Accepting one another despite what color they are. We get enough hatred from those who think they're superior, so unity.
Fun Facts About Jesenia:
1) She loves thrifting - she grew up on it and now she's back to it
2) She loves hot sauce and has to have it with her