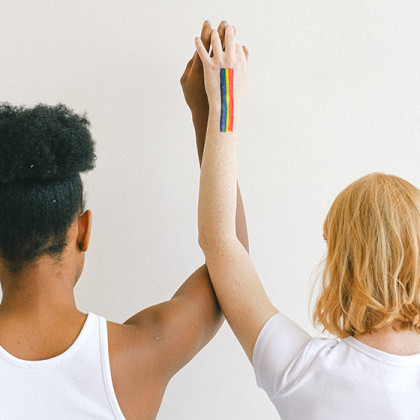 Support of pro-LGBTQ+ legislation and policies are necessary for the rights and protection of the community.

In the fight against anti-LGBTQ+ groups, members of the community ask for support in legislation to protect their rights. There have been a plethora of bills passed that prevent trans and non-binary youth from receiving gender-affirming care. This spans countless states throughout the United States, which account for more than 30% of transgender youth.
Harmful legislation passed:
Florida - restrictions on discussing sexual orientation and gender identity have been imposed by the 'Don't Say Gay' Bill. Some states are now allowing parents to opt children out of curriculum that discusses/covers the LGBTQ+ issues.
Alabama - laws such as 'The Alabama Vulnerable Child Compassion and Protection Act' state that school counselors must alert parents if their child states their gender is inconsistent with their sex. This law also makes it a felony for medical professionals to prescribe puberty blockers or hormones to transgender youth.
South Dakota - SB 46 blocks transgender youths' involvement in school sports most specifically targets trans girls playing on girls athletic teams.
Map of anti-LGBTQ+ legislation

These laws and bans create a huge mental health crisis for LGBTQ+ members. Not being able to use their preferred pronouns, openly discuss their identity orientation, have access to healthcare, join sports teams or see members of the LGBTQ+ represented. Forcing LGBTQ+ to hide and feel less than creates a huge strain on their overall well-being.

Laws and policies that limit access to gender-affirming care have been signed in several states. Medical professionals face suspension of licensure for providing health care for trans youth, parents or guardians who aid their child accessing such care can be fined, and much more.

The good news is.. in New York State, Gov. Kathy Hochul recently signed "nation-leading" legislation that not only protects but also affirms the LGBTQ+ community.

Legislation Signed:

Legislation (S.2475-B/ A.6046-B) Establishes New York as a "Safe Haven" for Trans Youth by Protecting Private Health Information, Shielding Medical Professionals, and Prohibiting Law Enforcement From Targeting Trans Youth

Legislation (S.993-A/A.4903) Establishes That Individuals Have the Right to Receive Addiction Treatment and Rehabilitation Based on Their Gender Identity and Sexual Orientation

Legislation (S.2442/ A.7367), Legislation (A.1142/ S.155), and Legislation (A.1371-A/ S.208-A) Update Outdated Terminology Used on State Documents to Describe LGBTQ+ Individuals
Ahead of Annual NYC Pride March, Governor Hochul Signs Nation-Leading Legislation to Protect and Affirm the LGBTQ+ Community

Legislation like the above mentioned reassures basic rights for the LGBTQ+ community. Supporting legislation fights the injustice LGBTQ+ members face. As well as discrimination in many aspects like healthcare, the workplace and in public based on gender expression, orientation or identity. We as individuals can also support the freedom, justice and equity of our LGBTQ+ friends, family, neighbors and more.

Ways to support LGBTQ+ and beneficial legislation:
Donate to LGBTQ+ organizations
Attend events to fight against prejudice and injustice
Speak with LGBTQ+ members and see where there is a lack of resources, access and support
Call local legislators to show support for new bills
Educate yourself on local resources and agencies that help LGBTQ+ individuals
Foster a welcoming environment for members to express their needs
Challenge policies that prohibit the freedoms of LGBTQ+ people
National Resources:
Human Rights Campaign

Center for the Study of Social Policy

GLAAD