/
The Utica Children's Museum Unveils Its New Mobile Museum
The Utica Children's Museum Unveils Its New Mobile Museum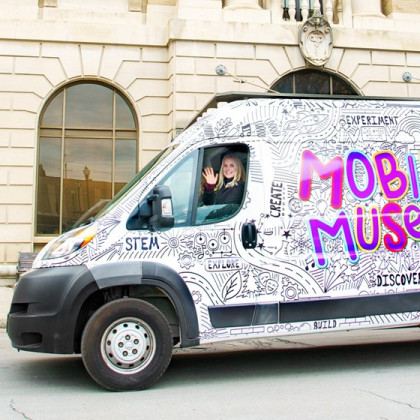 The Utica Children's Museum's new Mobile Museum took to the streets on November 17, 2021 in Bagg's Square, taking its maiden drive down Main Street to our ICAN headquarters.

This unique asset will serve the community while the brand new museum is being constructed at ICAN's Family Resource Center on the Parkway in Utica.

The Mobile Museum will offer ala carte activities and learning experiences to choose from that best fits schools' and students' interests and needs, enhancing their curriculum and helping students learn through play. Visits will include everything – set up, delivery of programming/activities and clean up. Programming is developed for pre-K through 6th grade and meets New York State Standards.

Museum Director Donna Migliaccio shares, "We're excited to be able to bring this unique resource to children and families throughout the region. The Mobile Museum is the perfect way to bridge the gap of time until the new Museum opens and for us to take play and learning 'on the road' now and in the future".

It is perfect for schools, community events, festivals and even birthday parties or private/corporate events.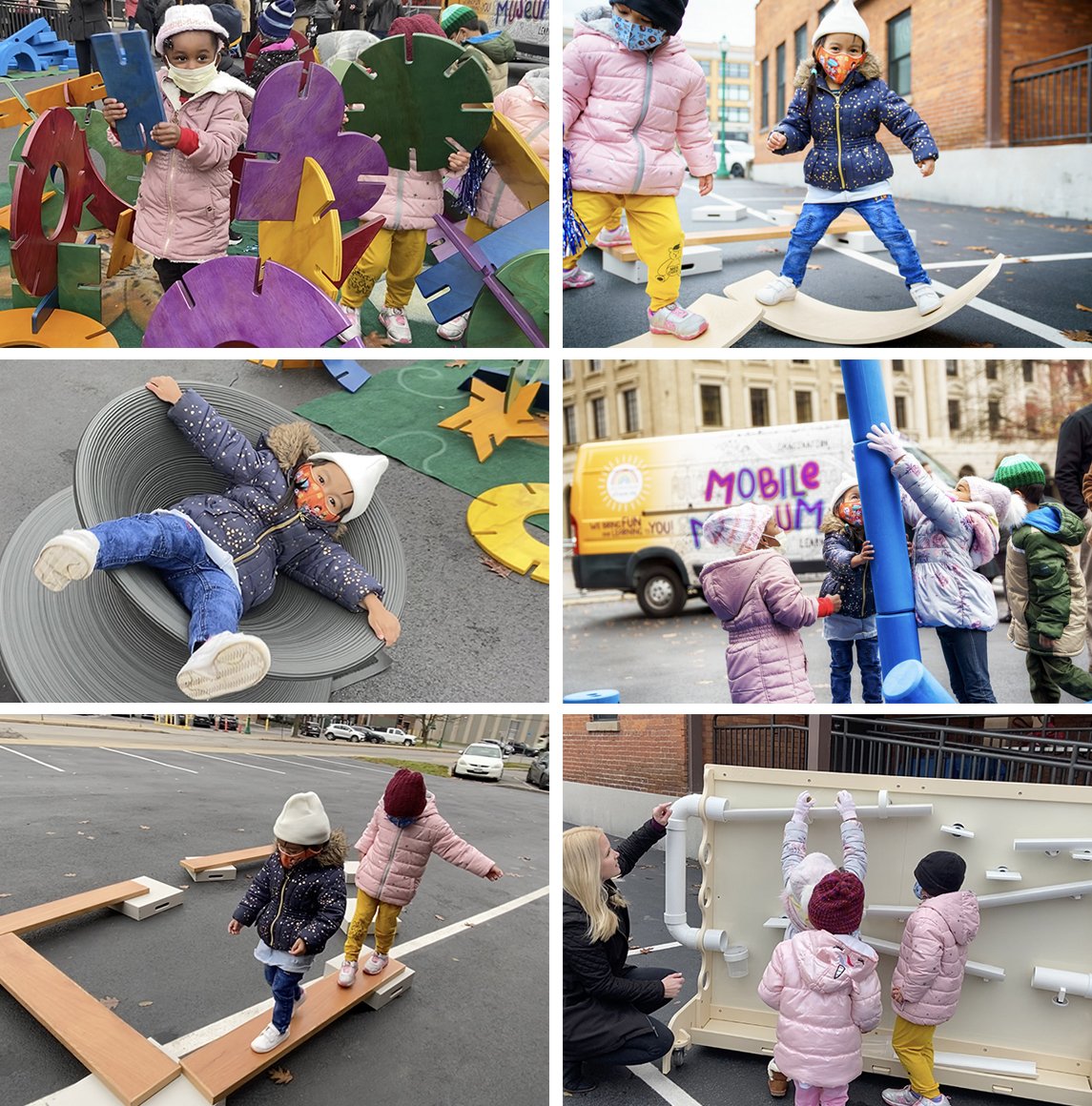 Two initial programming options will be available:

1) Creative Construction – invites children to use their engineering skills. The exhibits encourage free play that focuses on construction, thinking skills and growing awareness of the designed and built world around us.

Children will create using the Mobile Museum's Imagination Playground, custom made builder shapes, polydron octoplay, fort building kits and a mobile magnetic ball fall wall.

2) Motion and Movement – allows children to embrace and experiment with various methods of movement while developing gross motor skills and building a sense of confidence in their abilities.

This program features two Magis "wobble chairs", a custom-built plank challenge, wobble and balance boards, bucket stilts, foam pogo sticks, jump ropes and hula hoops.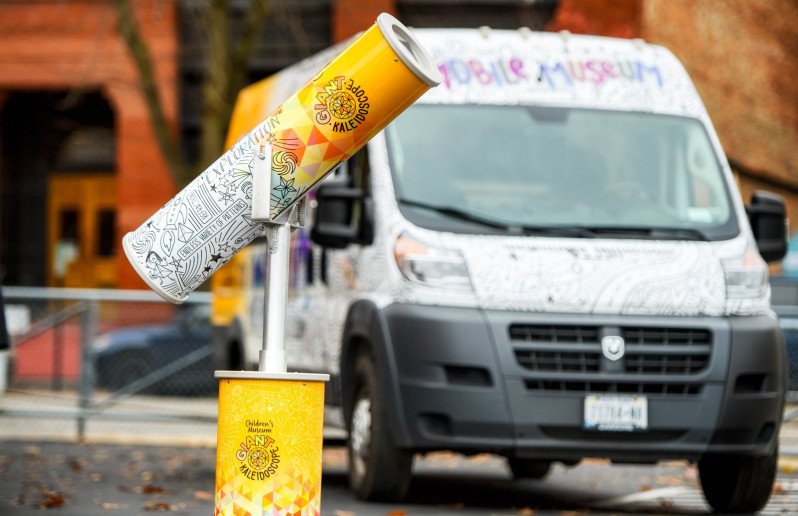 The Mobile Museum will also feature a signature creation – a Giant Kaleidoscope! The 4.5 foot high custom-made kaleidoscope will be available for events and field trips, introducing children to the principle of symmetry and basic geometry as well as delighting them with large-scale intricate designs and mirror images.

The Mobile Museum is now available for booking.

Funding for the Mobile Museum was made possible by the M&T Bank Partners Trust Bank Charitable Fund at The Community Foundation and The Jim & Juli Boeheim Foundation, with additional support from Carbone Dodge Chrysler Jeep Ram.

Designing and planning of the Mobile Museum was done in conjunction with our national partners at Hands On! and Leggett Consulting. Local vendors and creators were used for fabrication, installation, exhibit building and the final vehicle wrap – Utica Commercial Truck, the Enjoinery and Utica Signs.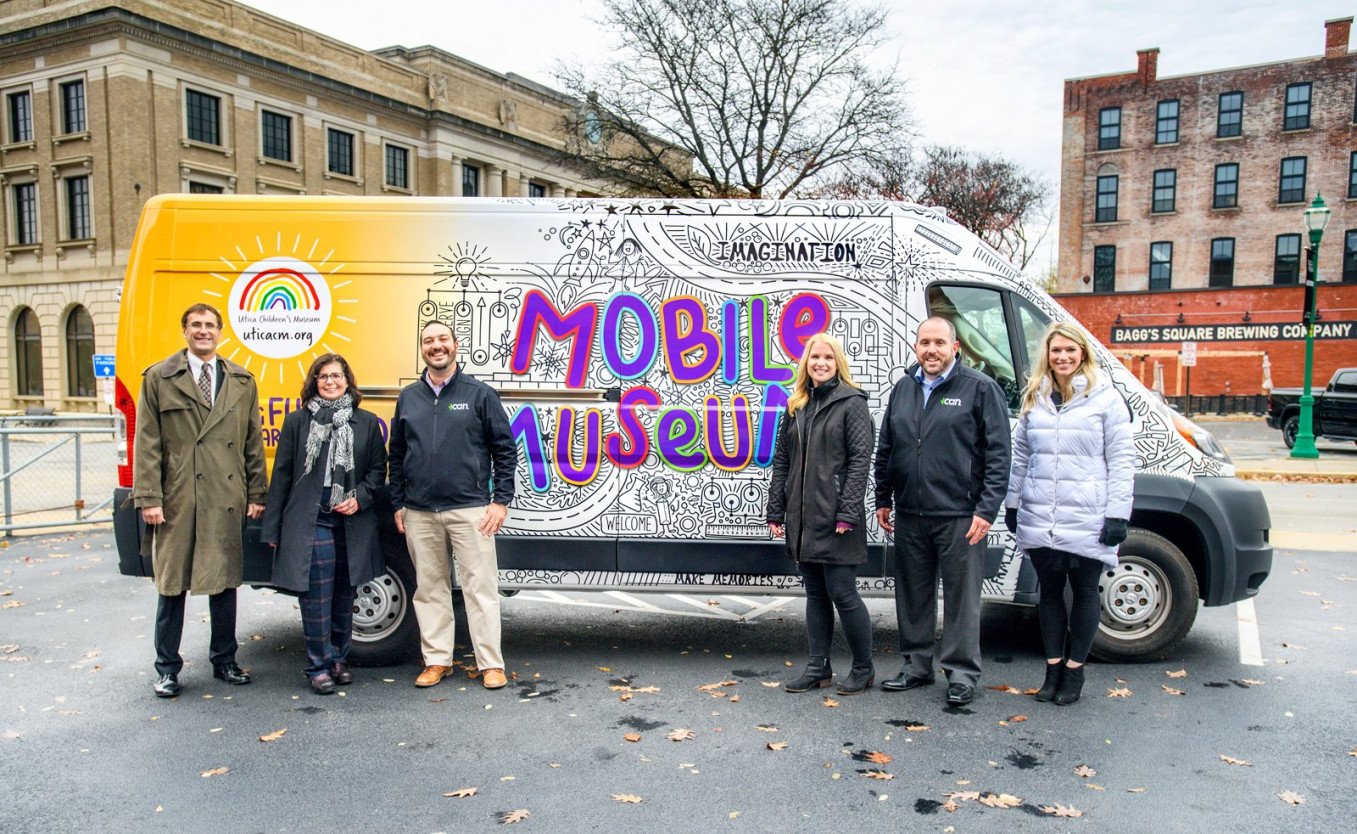 In photo, from left to right:
M&T Bank Market President David Manzelmann
M&T Bank Charitable and Community Relations Manager Alissa Viti
ICAN Chief Financial Officer and Utica Children's Museum Board Treasurer Chris Lambe
Utica Children's Museum Director Donna Migliaccio
ICAN CEO/Executive Director Steven Bulger
Utica Children's Museum Board Member Meghan Fraser McGrogan