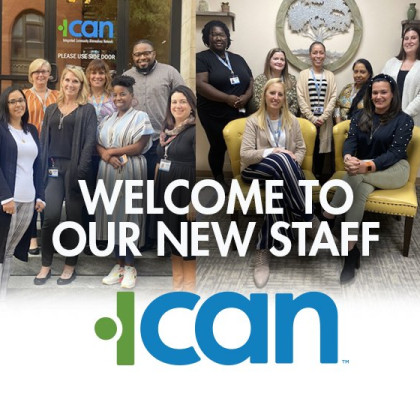 Our team is growing! Please join us in welcoming
our newest staff members to the ICAN team.
Photo on left, left to right:
Keyla Nadarevic
Adult Care Coordinator
Keyla has two kids, she bought her first home in May 2021 and she loves cooking multi-cultural foods.
Tammy Sterling
Family Support Specialist (Healthy Families Herkimer County)
Tammy loves sunflowers and photography and is the proud mom of two amazing children.
Michel Pedde
Family Service Coordinator
Michel loves to read fantasy and romance books and is an AR (advance reader) for a couple of authors, loves her dogs more than most people (?) and spending time with family and friends.
Kelly Motyl
Adult Care Coordinator
Kelly's other "job" is as an actress - she has done local theater, background on a TV show, a commercial for AmeriCU and just filmed a small role in a locally shot movie. She loves animals and has two dogs, four cats and two guinea pigs at home. She also volunteers every other Saturday at a cat rescue in Clinton. She tries to take good care of her health and wellness by working out at The Fitness MIll at least four times a week.
Anasa Sinegal
Director of Diversity and Engagement
She is such a music fan that she's seen the same groups in multiple cities and multiple states on the same tour. She has two goats and is a sneakerhead.
De'Quan Watson
Community Based Support Specialist
De'Quan LOVES LOVES LOVES Christmas!!! He purchased his first home in March 2020 and loves traveling to warm climate areas.
Emmie Petronio
TORCH Program Manager
Emmie is from Northeastern Pennsylvania and moved to Utica to go to college (Utica College). She stayed here after graduating in 2007. She loves to travel - their latest adventure was a trip to Alaska in the spring. (She share if you get the chance, go!) Food is her life! Her husband is a chef, and together they own motus with their business partner.
Photo on right, seated:
Lori Blunt
Clinical Administrative Assistant
Lori loves being outdoors in warm temps and will most likely move south one of these days. She loves animals and currently has an 11-year old yorkie poo named Puddles, who is the love of her life! Some of her hobbies include walking, crafts, reading and target shooting.
Paola Diaz
Behavior Specialist
Paola speaks a second language and loves Halloween and cooking.
Photo on right, standing:
Gabrielle Ervin
Adult Care Coordinator
Gabrielle loves to go on adventures to different waterfalls and trails, has two rescue fur babies and has a multicultural family
Maureen Tabaka
Adult Care Coordinator
God, family, friends, and her dog are the most important things in life to Maureen. She enjoys doing outdoor activities such as camping, hiking, walking, gardening, and skiing. She also loves to sing, and started doing it at the age of three. She enjoys helping others and likes to write.
Mona Fermin-Fennell
Quality Management Specialist
Mona is an optimist, loves to travels and loves seafood!
Maimun Khan
Community Care Coordinator
Mainmun shares that she is a crazy crafter and especially likes upcycling things into new things – like books, jewelry, and decor items. She's been a Star Trek fan her whole life and got to meet William Shatner out in Ticonderoga, NY, a few years ago. She's as curious as a bucket full of kittens. There's more on this earth and life than she will ever know, but that doesn't stop her from wanting to know.
Emily Braunlich
Community Based Support Specialist
Emily is a black belt in martial arts, learned to draw and paint during COVID and has over 25 tattoos.