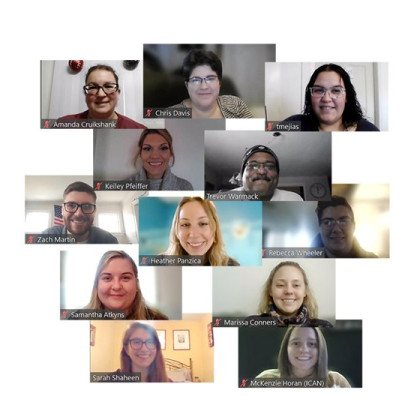 Our team is growing and we are proud to introduce you to our newest staff members:

Samantha Atkyns
TORCH Facilitator
Samantha is a 90s country music fan, is a "Cat Lady" with three cats at home and she loves being outdoors kayaking, nature walks, snow tubing and more.
Marissa Conners
Youth Care Coordinator
Marissa has four kids at home, used to be a Zumba instructor and really enjoys Hot Fries.
Amanda Cruikshank
Clinical Care Coordinator
Amanda was named after a Barry Manilow song. She loves to sing, read, travel, camp and is a POUND instructor. She is a stepmom to three and a fur mom to her eight year old rescue pup, Murphy.
Christine Davis
Youth Care Coordinator
Christine is mom to three wonderful children – Matthew 11, Nathan 9 and Olivia 4. She is married to a man she fell for at first sight and she was the first (and only so far) in her family to attend college.
Mandie Faffley
Community Based Support Specialist
Mandie is the mom of three boys and one foster daughter. She is in the final stages of her BSW program and came to ICAN so she can give back to families the hope that her family got from ICAN.
McKenzie Horan
Family Support Specialist (Healthy Families Oneida County)
McKenzie has a pitbull named Lola - she loves dogs. She also loves to go to camp in the summer and is a huge fan of Dunkin Donuts coffee.
Zachary Martin
Behavior Specialist
Zach has a step-brother who is also named Zach. Both of his parents wanted to be teachers originally (mom wanted to teach elementary school, dad wanted to teach art), and this is where he found his passion for working with children/students. His favorite sport to play is basketball - he has played since he was 3, was the captain of his varsity team, and also has an undefeated 3-0 record as a coach. His favorite sport to watch on television is football.
Tania Mejias
Supervised Visitation Monitor
Tania loves to write poems - it relaxes her. She can't sing, but loves to do karaoke night with her friends. She would like to go to college to study Human Services so she can help people - she truly feels that is her calling.
Heather Panzica
Development Assistant
Heather was born on Long Island, but moved upstate with her family when she was five years old. She was a figure skater for 13 years and she just got engaged in October, 2021.
Keiley Pfeiffer
Behavior Specialist
Keiley checked a bucket list item off her list in 2017 when she ran in the New York City Half Marathon and also ran another half marathon when she was 4 months pregnant with her daughter. Her family owns horses that run at the NYS Saratoga Racetrack and she loves spending summers participating in the sport of horseracing. Her favorite food is sushi and favorite drink is coffee.
Sarah Shaheen
Family Service Coordinator (Kids Oneida)
Sarah's favorite ice cream flavor is chocolate chip cookie dough. Her (not so) hidden talent is dancing; she has actually taught ballroom dance classes in the past, and really looks forward to teaching them again when the pandemic settles down and it's safe to do so. For those who meet her, she wants to be remembered by the positive impact she leaves on the world as a whole. She is really into supporting businesses or events that give back to the community, environment and to those in need around the world.
Trevor Warmack
Youth Care Coordinator
Trevor enjoys meeting and speaking with new people, traveling and fishing
Rebecca Wheeler
Family Support Specialist (Healthy Families Oneida County)
Rebecca loves helping people, rock music is her go to and she thinks motherhood is great!