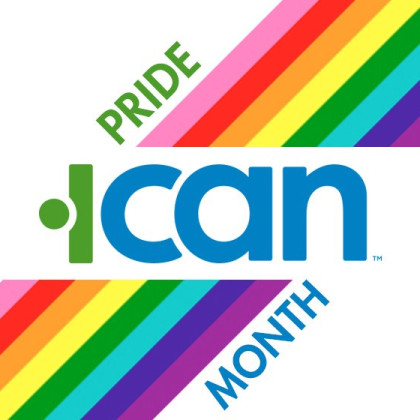 As many know, every year during the month of June, LGBTQ+ individuals and allies across the globe celebrate Pride Month.

Pride month is designed to empower and celebrate the lives of people that identify as lesbian, gay, bisexual, transgender, queer, questioning, asexual, intersex, pansexual, gender non-conforming, gender non-binary, and anything and everything in between or beyond. Pride hasn't always been a celebration of rainbows, glitter, love, and happiness, however. The first "Pride Parade" was a riot in 1969 after police stormed a gay club in New York City called Stonewall Inn. Over the next six days, rioting and protesting ensued by community members and LGBTQ+ individuals. These protestors paved the way for LGBTQ+ rights today by demanding change and reform.
Today, we celebrate Pride by going to Pride Parades, dressing in rainbows and glitter, supporting local LGBTQ+ artists and vendors, remembering those that provided change for such a large and important community, and fighting for reform. It is imperative that we remember the LGBTQ+ community's history in celebrating Pride as more than just rainbows. The community would not be where it is today without Black transgender individuals, such as Marsha P. Johnson, who was a radiant, LGBTQ+ activist in the time of the Stonewall Riots.
The LGBTQ+ community has come a long way from 1969. Same-sex marriage has been legalized in all 50 American states (2015) and non-discrimination laws in the workplace have been solidified federally (2020). While rights for minorities in the LGBTQ+ community have improved, there is still a long way to go in America in terms of stigmatization, healthcare, housing, foster care, adoption, resource allocation, and visibility.
Love your LGBTQ+ family members, friends, community members, and neighbors. Fight for their rights, during Pride month and every month. Stand with them, help their voices be heard, and protect them at all costs. Strive for allyship, have conversations, learn, ask questions, and most importantly, love. Enhance your spaces to be LGBTQ+ inclusive by creating safe spaces, physically and emotionally, for individuals, youth, and their families in your offices, homes, and communities. Simple acts, such as inserting your preferred pronouns into your email signature or smiling at a same-sex couple as you walk by them, can send the message of allyship and acceptance to a group of people that often live every day in fear for simply loving who they love or being who they are. The LGBTQ+ Movement, at the end of the day, is all about love.
And to all of the LGBTQ+ identifying, beautiful humans: you are seen, you are important, and you are loved. It may not always feel like it, and the world can be a scary place, but there are more people in your corner than you realize. Embrace your identity, find like-minded and supportive people to surround yourself with, and know your surroundings enough to keep yourself safe in a world that may not always have your back. Have pride in who you are, not despite your identity, but because of it. And always remember, Love is Love.
Resources:
The Q Center - local resource that promotes a safe environment for LGBTQ+ individuals
Human Rights Campaign - largest LGBTQ+ civil rights organization
The Trevor Project - in support of LGBTQ+ youth mental health and suicide prevention; 24/7 mental health hotline: 1-866-488-7386
____________________________________________


Bri Anderson has worked for ICAN for the last three years evolving through several roles in the company, including intern, support staff, supervised visitation monitor, adult care coordinator, and assisting staff in the marketing, quality assurance, and accounting departments. Bri has recently graduated with her Master of Social Work (MSW) degree from the University at Buffalo, and she hopes to continue her work with ICAN in a therapeutic capacity.