/
ICAN Creates a Time Capsule for the Parkway
ICAN Creates a Time Capsule for the Parkway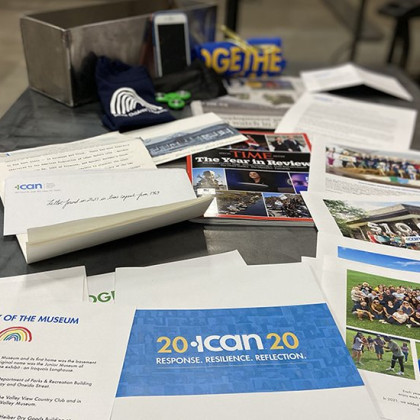 Making a time capsule is a project full of fun, research and responsibility. ICAN recently completed a 2021/2022 time capsule to put in the wall of our Family Resource Center on the Parkway in Utica. Watch the making of it in the short video below and read about its contents and how we represented our project AND the world we're living in.

In April 2021, a time capsule from 1969 was found in the cornerstone of 106 Memorial Parkway – the site of our future Family Resource Center and Children's Museum. It was put there when the building was constructed that year by the Amalgamated Meat Cutters, Butcher Workmen and Affiliated Crafts of North America (now UFCW Local One) and was uncovered by our general constructor on the FRC project, Gaetano Construction.

In January 2022, we had the creative, historic task of constructing a new time capsule to put back in the wall to be opened in 50 years. What an honor! It's amazing just to type the year "2072"! Providing the future a snapshot of our agency, our people and our project was a given, but also sharing what is happening globally during the pandemic was a responsibility we took very seriously.



Our 2020 Annual Report showcases how ICAN navigated the pandemic with our staff and the families we serve. It was the perfect piece to show what life was like and how we pivoted and kept moving forward.

We put a few items from the original 1969 capsule back in – it just seemed right that those who opened it in the future see and feel that history as well. That included a letter from Union President Samuel Talarico, the invitation to the unveiling of the building in 1969 and an issue of the Utica Daily Press dated July 21, 1969 with the front page headline "Man Walks On Moon".

We worked with our friends at Empire Steel Innovations in North Utica to make the box from stainless steel and to seal it to withstand the next five decades in the wall!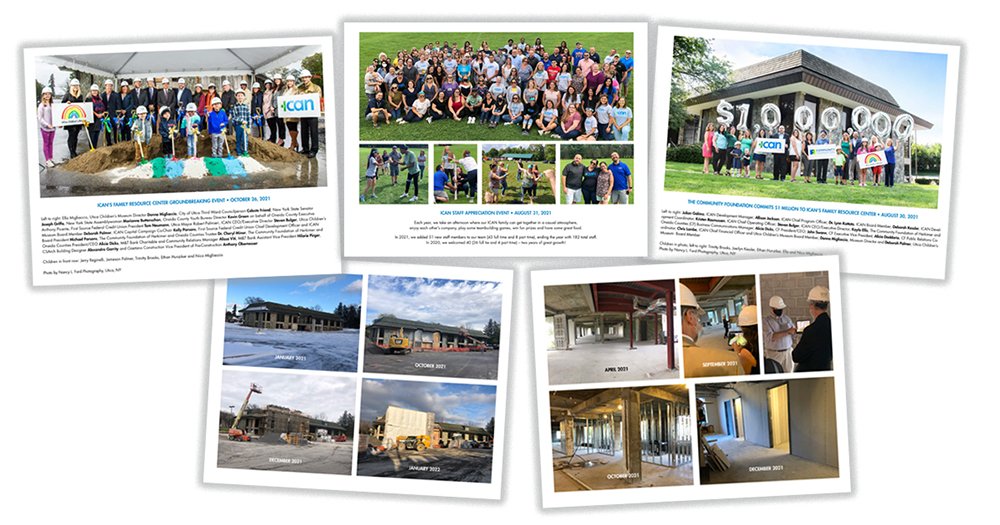 One thing we wanted to be sure to include was in-progress photos of the exterior and interior construction - something that would have been really great to see from back in 1969. In addition to putting a handful of photos on the USB drive, we printed key shots and dated them.

A photo of our ICAN staff from our Employee Appreciation Event in summer 2021 was included to show our team. We couldn't do our work in Keeping Families Together every day without them! A photo from our groundbreaking ceremony in October 2021 and one celebrating a generous $1,000,000 gift from The Community Foundation of Herkimer and Oneida Counties was added as well.

On a USB drive we added television segments covering the groundbreaking of our project, a Talk of the Town radio interview with ICAN CEO/Executive Director Steve Bulger and Museum Director Donna Migliaccio which shares on the purpose and details of the project. Our project video was included, as well as a video showing the roll out of our new Mobile Museum. And yes, we included some selfies of our team on site donning ICAN hard hats. (Who knows where selfies will be in 50 years!)


Of course we included some fun stuff as well – top songs and albums of 2021, the top news headlines of the year, popular expressions and slang (which is pretty "lit"!) and a list of apps and social media that we are all using. A copy of the Observer-Dispatch went in as well, as we were included in their headline story "Mohawk Valley Development Projects to Watch in 2022". A Time magazine that features a wrap up of 2021 was a must. We tucked in a Capital Campaign t-shirt and a Children's Museum onsie along with an iPhone, a mask (obviously!) and a fidget spinner.

Two things in particular were very special and gives the future a feel for our community and society today. The first is a sheet called "Our Community" which celebrates the diversity of the greater Utica area with great statistics pulled from The Center's website. We also included a sample of the many languages spoke here and included how to say/write "Hello" and "Welcome" eleven different ways. The second piece shares what families like to do together in 2021 from watching local sporting events or going up north to cook outs, making Tik Tok videos and taking road trips. Everything ICAN does revolves around family and this was an important piece for us to share. We wonder what families will enjoy doing together in 50 years!

Flash forward to 2072 at 106 Memorial Parkway. Perhaps the ICAN offices and the Children's Museum are still going strong and our future staff will be the ones to open the time capsule. Or maybe we will have outgrown the space, moved on and someone new is renovating the building to fit the new needs of the community.

Whoever sets eyes on the time capsule next, the last line of Steve Bulger's letter says it all: "We wish you health and happiness. Remember the laughter and love that has echoed through this space and build on that as you bring this building into its next chapter."