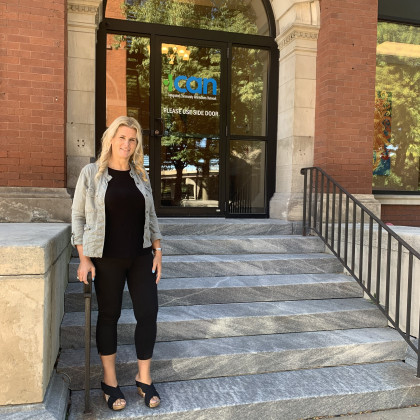 Provider Spotlight September 2020
Rebecca Wakefield
Rebecca began her career as an ICAN IPA provider in 1999 as a part time mentor working for Dave Organisciak, another veteran provider in our network. After only 2 years, Rebecca fell in love with the job, especially the flexibility and autonomy, that she started her own Business, Leach Youth Services in 2001. Rebecca has provided so services, including mentoring, behavioral management, and parent aide to children and families in our community over the past 20 years. During the interview, Rebecca reminisced about how different things were in the agency when started in the late 90's but the one thing has remained the same… ICAN's commitment to keeping families together and doing whatever we need to do to give the clients the supports they need.
Rebecca said that the two most important things to connecting with and engaging our clients is RESPECT and CONSISTENCY. She always approaches a new client with the mantra "I will respect you and give you the support you deserve" and she has seen throughout the years that the kids she has worked with always grow to have the same respect back for her, sometimes when they are showing little respect to anybody else in difficult times. She also says consistency is KEY – "Do what you say and say what you do". When you show people that you are consistent, it is a sign of respect that you are showing up for them just like you want them to be showing up for themselves and their families. Through consistency you can be present to role model the positive behaviors and skills that are so needed with many of the families we work with at ICAN.
Rebecca has most enjoyed seeing the potential in the kids she works with (even when others couldn't see any) and building on those strengths to help them reach their goals. She says that even those kids that were acting out the loudest and fighting against services the hardest always had some positive traits that were worth exploring and building on. She always goes the extra mile to make sure her clients see her not only at their homes and schools, but at their games and extra-curricular activities so they know she is committed and cares. RESPECT and CONSISTENCY. Rebecca didn't miss a beat during the pandemic and found any way possible to stay connected to her families.
Rebecca's favorite thing about ICAN is the family we have created. We lost a very special member of our family this year, Chris Harris, who Rebecca had a very special bond with. She was overwhelmed by the outpouring of support and care from everyone at ICAN.