/
National Mentoring Month: Spotlight on IPA Provider Tony Colón
National Mentoring Month: Spotlight on IPA Provider Tony Colón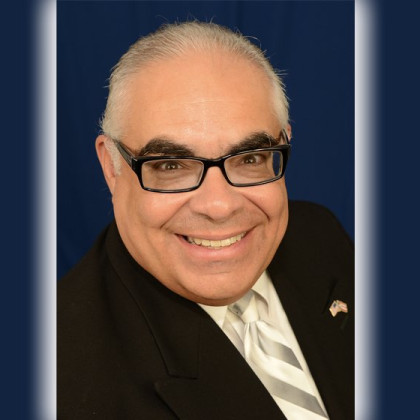 "A hundred years from now it will not matter what my bank account was, the sort of house I lived in, or the kind of car I drove... but the world may be different because I was important in the life of a Child."
-- Forest E. Witcraft Teacher, Scholar
Tony Colón is everywhere. You see him volunteering in the community on boards, heading up committees and efforts, working with youth and assisting the Hispanic community with a wide variety of needs. Tony is also no stranger to ICAN.

Tony worked with ICAN's Independent Practice Association (IPA) from 2008-2011, and now along with his wife Marabella (aka "the boss!"), works in the IPA network under Marabella Colón, DBA, which was established in 2015. They have been married for 43 years, each have their own case loads through the business and although many times they can be like ships passing in the night, when they connect for dinner each night, they use it to give each other perspective on the many youth they work with.

Tony works only with young men, as young as five years old and as old as 18-20. Some he works with for a few months while other relationships last a couple years or more, all depending on the needs of the individual, their circumstances and progress towards their goals. Currently he has a case load of 21, which results in dedicating 4-6 hours a day with youth as well as eight hours on Saturdays. He travels ALL over the place to work with his mentees - Boonville, Ava, Camden, Lee, Taberg and Herkimer – sometimes logging 100 mile round trips for visits.

Both Tony and Marabella provide Family Support Services including mentoring, behavioral management and respite programs, as well as Spanish interpreting for ICAN, as needed. It is important in his work that although he is assigned to the child, he ultimately works with the entire family. He works to build a solid rapport with the kids, parents and/or guardians and his families know that they can call him anytime.

Tony believes that a good mentor forms strong relationships with a wide range of young people, their families and with a variety of organizations. They also should have the ability to gain the confidence of children, schools, agencies and people/businesses in the community.

Tony grew up in the South Bronx. His dad worked three jobs to support the family and his down time was limited, so Tony benefited greatly from the oversight and mentoring of male figures at the Casita Maria Community Center. They provided assistance and guidance with sports, homework and more. Due to that early, personal exposure to the benefit of mentoring, Tony has made it his life's work and to date he has guided over 300 mentees of his own.


Helping Mentees Grow with Experiences and Activities
All of Tony's mentees get their library cards - many times it is the first time they enter the library building. One young man he works with now prefers to go to library before they go to eat! After they get comfortable, they start to walk in like they own the place with confidence. Some take books home to read to their bothers or sisters.

"Mr. Tony", as he is known to his mentees, helps them speak up for themselves, advocate and ask questions. When out to eat, he touches on everything from how restaurants operate and how to order, to tipping and using silverware properly. He challenges the young men to try things they've never eaten before and uses the opportunity to talk about good nutrition.

He quizzes them on questions for the written test to get their driver's licenses, teaches them about vehicle maintenance and costs, and how to pump gas. They teach him about streaming services and electronics. (And he works on navigating those the best he can!)

He teaches the kids life skills, connects them to services and opportunities in the community and works to help them better themselves in many aspects. It is fulfilling for him to be the connection to their independence and he likes seeing them be empowered. In many cases, he purposefully becomes a distant observer of their activities to give them the space and confidence-building they need, and he will interject when necessary. He enjoys helping them open themselves up to new horizons.
College Connections
Tony has been on the board at Mohawk Valley Community College since 2008 and is the current board president. He has the unique perspective and resources through that position to assist many of his mentees (and others!) in learning about MVCC's offerings and getting them enrolled, if they choose. At December 2021 commencement, he saw some of his former mentees walk the stage to receive their diplomas!
Working with ICAN
Being part of the IPA Network at ICAN provides Tony the value of working independently and the luxury of working on a schedule that he sets for himself. Having an ICAN liaison between the non-profit and the individual agencies is critical and opens up a two-way conversation.
Beyond His Mentoring Work
Tony is also the owner/president of Solutions by Technologic, LLC in Utica, which was established to provide services in various disciplines including language, cultural, and human services along with IT and medical recruitment.

As a Qualified NYS Office of Court Administration Legal Spanish Interpreter, Tony has provided bilingual services to a variety of entities including the New York State and Federal Courts, along with the NYS Office of Mental Health.

In November 2020, Tony collaborated with owner Mindy Barstein / Arjuna Broadcasting and brought the first 24 hour (over the air and streaming) Spanish Language Radio Station to the Utica market: El Zorro Radio Latino (WNRS) 98.3 FM/1420 AM

Learn more about Tony's professional experience and accomplishments on his Linked In profile.


Fun Facts about Tony
He is a sports fanatic and loves his New York teams: Mets, Jets, Knicks and Rangers
He also loves fishing, although he didn't grew up fishing. It's a mentor activity he enjoys – the kids like the quiet and solitude. They frequent Lock 20 in Marcy and the kids are teaching him more and more each time!
He is a weekend chef/grill master
He is the father of two and has three grandchildren, including a granddaughter he gets on the bus every morning