/
Utica National Group Foundation Commits $125,000
Utica National Group Foundation Commits $125,000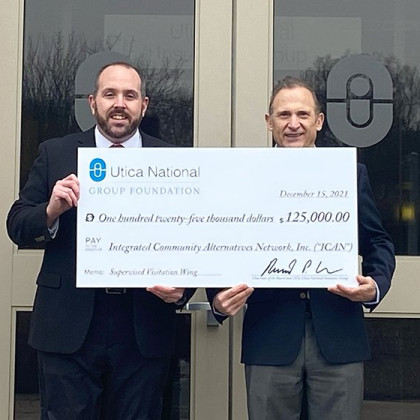 Utica National Group Foundation Commits $125,000 to ICAN's New Family Resource Center and Children's Museum
The Utica National Group Foundation, the philanthropic arm of the
Utica National Insurance Group
, has committed $125,000 to ICAN's Family Resource Center, which will also house a new, state-of-the-art Children's Museum. Utica National has been a longtime supporter of ICAN, focusing especially on programming that came under their umbrella in 2013 when they merged the Family Nurturing Center of Central New York into their agency. Utica National also engages with ICAN's Community Training and Education Program for their national Head of the Class Program.
The $125,000 grant sponsors ICAN's Supervised Visitation Wing in the new first floor space and contributes to the overall project total of $14 million, which includes site improvements, museum exhibit design and the addition of a rotunda—a signature architectural element on the south side of the building at 106 Memorial Parkway, Utica.


"Programs and services enabling children and families to improve their well-being are so vital to the community,"
noted Utica National Group Foundation Screening Committee Chair Bernard Turi. "Supporting the new Family Resource Center helps ICAN continue their essential work and provide those much-needed programs and services in an inviting and appropriate setting."
ICAN CEO/Executive Director Steven Bulger adds, "Utica National has always aligned with our family-first approach to everything we do, and has supported programming that helps strengthen families from the start. This generous gift shows their commitment to continue the work and to help us make a center that is beneficial in so many ways for families throughout our region."


ABOUT THE FAMILY RESOURCE CENTER
The Family Resource Center will unite two of our region's greatest assets: ICAN's youth and family programs and the Utica Children's Museum. A hub for learning, wellness, connectedness and FUN, this will be the first time that a children's museum is co-located and partnered with a human services non-profit.


Summer 2021: Project groundbreaking
Summer 2022: ICAN opens Family Resource Center for services
End of 2023: Grand opening of the new Children's Museum


ICAN programs such as Supervised Visitation, Healthy Families and Nurturing Parenting will be housed at the new Family Resource Center, all of which will utilize the museum space for family bonding, confidence building and ultimately for making families stronger. Select ICAN administrative departments will also be housed at the new location.


The new museum will be located on the second floor and in the rotunda of the Family Resource Center. It will provide a space and be a catalyst for post-pandemic healing for all and will offer needed socialization, connection and joy as well as hands-on educational experiences aligned with school curricula to help students get back on track after an extended loss of learning. Close to the Parkway Recreational Center, Val Bialas Ski Center, Utica Zoo and the John S. Dyson New York Energy Zone, the museum will enhance this family-friendly district of the city. Regional and national experts are assisting with the project from architecture and conceptualization to creation of museum exhibits and ensuring Universal Design principles are integrated.


ABOUT ICAN
Founded in 1997, ICAN is a unique home and community-based network that provides individualized and non-traditional services and care to the highest risk individuals and families with social, emotional, mental health and behavioral challenges. ICAN's team of over 170 staff consisting of care managers, service coordinators, social workers, support specialists, clinical staff and an extensive Independent Practice Association (IPA) of 250+ providers work together to provide a platform for support, family reunification and preservation to over 1,900 individuals and families each day – prenatally through end of life.


ABOUT UTICA NATIONAL GROUP FOUNDATION
As the philanthropic arm of the Utica National Insurance Group, the Utica National Group Foundation was founded in 1987 in advance of Utica Mutual's 75th anniversary. Since then, the Foundation has made a positive difference in the communities where we do business, awarding several million dollars in grants to nonprofit organizations providing programs and services for children, adults and families.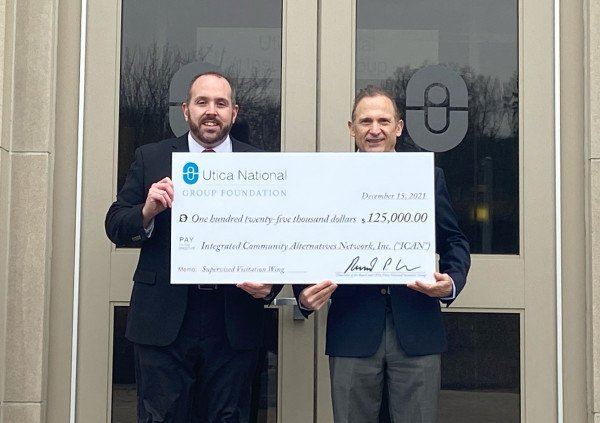 Steven Bulger (left), ICAN CEO/Executive Director, and Bernard Turi, Esq. (right), Screening Committee Chair – Utica National Group Foundation/Executive Vice President, General Counsel, General Auditor & Chief Risk Officer – Utica National Insurance Group