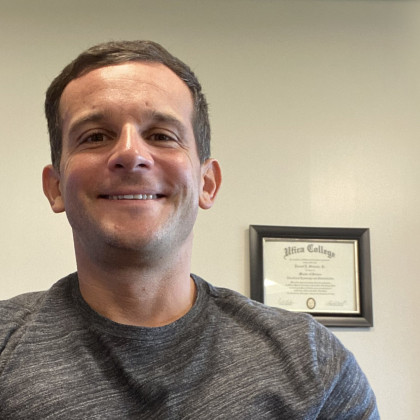 August 2021 Provider Spotlight
Russ Stevener is from Marcy, majored in education at Utica College and was a math teacher for four years. In 2012 he moved to an administration role and is now the high school principal in Holland Patent.

Russ started in ICAN's IPA network as a mentor in 2007 with Clinton Norwood and in 2016 he began his own business - RES Youthworks - offering behavioral management and mentoring. He and his team of nine providers currently work with close to three dozen youth in Oneida and Herkimer Counties that range from 5-19 years old. He loves setting goals with youth and helping them work towards achieving them.

Our counties have a pretty lengthy list of youth who would thrive from having mentorship in their lives. Russ encourages more people to get involved. For those considering it, he shares, "if you want to fix the system, pay it forward or simply enjoy fulfilling work helping youth find a successful path, THIS is your chance to take action. You can truly make a difference". Mentors can become a positive outlet for families.

With close to two decades of experience working closely with youth, Russ shares some tips for those currently mentoring or those who may in the future:
Do what you can in the time you have with them. Even if it's only an hour, make that hour memorable or impactful in some way.
Celebrate wins of all types, especially the small ones.

Be available for the parents and keep the lines of communication open. Your influence can help them work more productively with their child.
Remember, as a mentor you are part of a team that surrounds youth with opportunity, motivation, resources and care.
Russ also appreciates the relationship and professional guidance that ICAN offers their IPA network. It is nice to have someone to go to, the trainings and resources are helpful and you know that you're not alone. The IPA model is great.
In the time he's not working with youth, Russ loves Crossfit and fitness (something he regularly works into mentoring sessions!) and is anxiously awaiting the birth of his first child!