/
Spotlight on ICAN's Independent Practice Association (IPA)
Spotlight on ICAN's Independent Practice Association (IPA)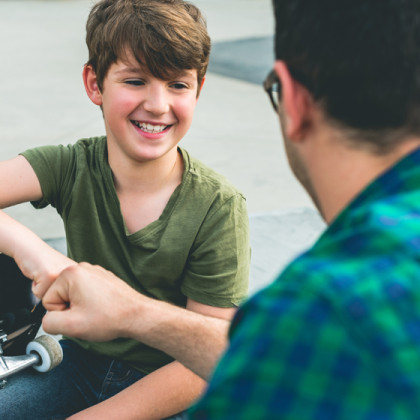 While over 200 staff work at ICAN, we also have a team of contracted providers in our Independent Practice Association (IPA) who partner with us for essential services to our youth and adult clients. The numbers are impressive: ICAN works with 46 agencies and 246 individual providers in the IPA network. In 2022, the IPA saw close to 2,900 clients and made almost 50,000 contacts. The IPA makes ICAN a powerful team of close to 500 dedicated individuals who are Keeping Families Together every day in our community.
THE HISTORY OF THE IPA
The provider network itself has existed for 25 years, starting right when ICAN was founded in 1997, and originally was formed to supplement the needs of families we worked with to prevent out-of-home placement. At that time, the IPA allowed ICAN to provide a level on intensity in services that wasn't seen anywhere else in our area, especially in regards to youth at great risk of being removed from their home. The network was formalized as the Independent Practice Association in 2017 when Medicaid transformation services were implemented.
WHY IS IT NEEDED?
The IPA is an integral part of ICAN's Wraparound philosophy – a team-based planning process intended to provide individualized, coordinated, family-driven care to meet the complex needs of children and adults who are involved with various child and family serving systems. The IPA provides affordable services to clients of all ages in our community and fills deficits that are missing or needed.
WHAT DOES THE IPA DO?
Providers are part of our team who focus on strengthening, empowering, providing a strong role model in a client's life.
The IPA offers:
Mentoring

Behavior Management

Psychosocial Rehabilitation

Family Peer Support

Clinical Services

Crisis Intervention

Home & Community-Based Services
The IPA also:
Provides connectedness

Brings standards to behavioral health field

Increases quality of services

Increases positive outcomes

Broadens resources to community

Builds trust
WHO CAN BE A PROVIDER?
IPA providers are teachers, social workers, retired, young professionals, care coordinators and more. To many of them, helping youth and adults thrive is their calling. IPA has a place for everyone – agencies of all sizes down to individuals – who have a variety of expertise.
Being a part of the IPA is great for individuals looking for:
Extra Income

Flexibility

Personal Growth

Creating a Better Community

THE BENEFITS TO BEING A PART OF THE IPA
ICAN provides incredible resources and support to the agencies and individuals who work with us through the IPA.
From the start, we handle onboarding and administrative services like background checks and billing. Our team of admin experts expedite processes for our IPA agencies, allowing them to focus on CARE versus paperwork. IPA providers have access to our staff if needed for guidance, advice or additional support – clinicians, social workers and others who can share their experiences and expertise. The IPA also benefits from marketing and communications expertise of ICAN.
ICAN has two offices in Utica and one in Herkimer if providers need drop-in space to work or space for community meetings. And the "extras" are great, too! ICAN's reputation in the community as a family-first agency with impact puts us on the radar of many other organizations. If we are offered things in the community that will provide a great mentor experience – like passes, tickets or opportunities – we share it with our IPA. ICAN supports many events and initiatives in the community which provide great family-time experiences for our staff, clients and IPA.
HOW DO YOU BECOME PART OF THE NETWORK?
Are looking to give back, make extra money, and be part of a collaborative team?
Call our Director of IPA Operations today to learn more:
Geoffrey Stewart
315-731-2623
gstewart@ican.family