/
Bank of Utica Commits $100,000 to ICAN's New Family Resource Center and Children's Museum
Bank of Utica Commits $100,000 to ICAN's New Family Resource Center and Children's Museum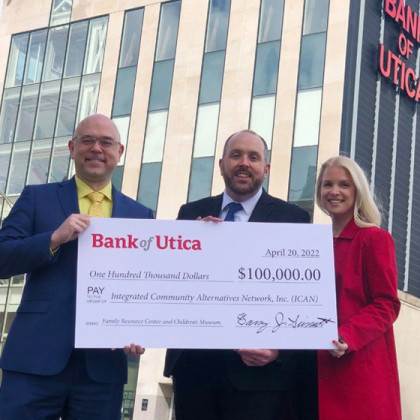 Bank of Utica has committed $100,000 to ICAN's Family Resource Center, which will also house a new,
state-of-the-art Children's Museum.

Bank of Utica has been a long time, hands on partner, supporting ICAN and especially the Utica Children's Museum in many ways. The bank has supported school break week activities at the Museum, the annual Boo Bash event, the inaugural Mini Golf Classic and the Museum's 55th Anniversary Event – helping us ensure that our area's children and families have fun, educational opportunities to spend time together. Supporting the new Family Resource Center is the next chapter in this longstanding relationship.

Barry Sinnott, Senior Vice President of Bank of Utica shares, "Bank of Utica has had a long relationship with the Children's Museum and we are happy to continue to work with them as they enter this new exciting phase of their history. The new building will be a special asset for the Mohawk Valley and something this area has never seen. We are happy ICAN has the museum under their umbrella and I can't wait to bring my kids to it once it is finished."

The $100,000 gift contributes to the overall project total of $14 million, which includes site improvements, museum exhibit design and the addition of a rotunda—a signature architectural element on the south side of the building at 106 Memorial Parkway, Utica.

ICAN CEO/Executive Director Steve Bulger adds, "Bank of Utica's family values have always aligned so well with ours and the care for our community they illustrate again and again is admired and appreciated. We are looking forward to continuing this relationship as we build a place that will bring joy to the region for generations to come."
ABOUT THE FAMILY RESOURCE CENTER
The Family Resource Center will unite two of our region's greatest assets: ICAN's youth and family programs and the Utica Children's Museum. A hub for learning, wellness, connectedness and FUN, this will be the first time that a children's museum is co-located and partnered with a human services non-profit. LEARN MORE
Project timeline:
Summer 2021: Project groundbreaking
Summer 2022: ICAN opens Family Resource Center for services
End of 2023: Grand Opening of the new Children's Museum
ICAN programs such as Supervised Visitation, Healthy Families and Nurturing Parenting will be housed at the new
Family Resource Center, all of which will utilize the museum space for family bonding, confidence building and ultimatelyfor making families stronger. Select ICAN administrative departments will also be housed at the new location.
The new museum will be located on the second floor and in the rotunda of the Family Resource Center. It will provide a space and be a catalyst for post-pandemic healing for all and will offer needed socialization, connection and joy as well as hands-on educational experiences aligned with school curricula to help students get back on track after an extended loss of learning. Close to the Parkway Recreational Center, Val Bialas Ski Center, Utica Zoo and the John S. Dyson New York Energy Zone, the museum will enhance this family-friendly district of the city. Regional and national experts are assisting with the project from architecture and conceptualization to creation of museum exhibits and ensuring Universal Design principles are integrated.
ABOUT ICAN
Founded in 1997, ICAN is a unique home and community-based network that provides individualized and non-traditional services and care to the highest risk individuals and families with social, emotional, mental health and behavioral challenges. ICAN's team of over 180 staff consisting of care managers, service coordinators, social workers, support specialists, clinical staff and an extensive Independent Practice Association (IPA) of 250+ providers work together to provide a platform for support, family reunification and preservation to over 1,900 individuals and families each day – prenatally through end of life.
ABOUT BANK OF UTICA
Founded and headquartered in downtown Utica since 1927, Bank of Utica is the largest bank in our Greater Utica/ Oneida County area in terms of deposits. They are a full service commercial bank offering a multitude of deposit and loan products for commercial and personal customers. They maintain an old fashioned sense of doing business as, via their employee stability, they really get to know you. They also offer modern products that let you bank remotely, including online banking, mobile banking and a nationwide network of surcharge-free ATMs for cash withdrawal.
Bank of Utica is mindful that their success stems from the community and have a continuing and unwavering dedication to the area's citizens, businesses, non-profits and member organizations. Their focus is building relationships that transcend generations and look forward to helping the area prosper for many more years to come.
PHOTO CAPTION
From left to right: Barry Sinnott, Bank of Utica's Senior Vice President; Steven Bulger, ICAN's CEO/Executive Director and Donna Migliaccio, Director of the Utica Children's Museum.