/
Silver Linings Series: Black Lives Matter
Silver Linings Series: Black Lives Matter
The COVID pandemic has been a lot to handle over the past five months. It has had a tremendous effect on daily routines, mental health and has forced lightning speed pivoting of how we work and assessing how we value and spend our time. The racial unrest happening in our country has also compounded this year's uncertainty and has provoked deep reflection for us all personally and as a community. ICAN's strengths-based culture serves strongly as our compass during this time.

As some of you know, we began our Diversity, Equity and Inclusion (DEI) strategic initiative in 2019. This process was intentionally developed in phases. We are currently exploring and recognizing our own unconscious biases and it has also provided an opportunity for some staff to use their time for advocacy and change. In this post, our employees discuss both the impacts they've made and that have been made on them in regards to the Black Lives Matter and anti-racism movements.
Bri Anderson
Adult Care Coordinator & Supervised Visitation Monitor
This time period has been nothing like I've ever experienced. I navigated graduating from my Master's program remotely, unexpectedly moved back to Utica from Buffalo, and learned how to conduct teletherapy with little ones over Zoom. My silver linings, however, outweighed all of the stress. I redid my bedroom, joined several different teams at ICAN, was able to spend more time with my family, and challenged myself in ways I never thought I would have to. Some of the most exciting things I was able to do during the "COVID-19 era" was stay with my best friend in Maryland for three weeks, hike new mountains, attend my first protest for the Black Lives Matter movement, and attend the Black Lives Matter Plaza in Washington, D.C. Being able to witness a huge portion of history in Washington, D.C. was an experience I wouldn't have gotten without the opportunity to slow down and take time for myself. Not many things have the power to make me speechless, but the energy at the Black Lives Matter Plaza surrounded by people just as enraged and thirsty for change as I am was an extremely sobering experience that I will never forget.

Michelle Truett
Marketing Coordinator
On Friday, March 13th I traveled 13 hours round trip to Philadelphia to get my son, Deondre, from college, not knowing what COVID really was yet… or what it had in store for us. I just wanted him home where we could hunker down and figure things out. He's a graphic design student and after he finished his semester virtually and realized his summer job prospects had all dried up, I challenged him to find five ways to make some things happen with his art. Ahmaud Arbury's and George Floyd's murders spurred a lot of conversation in our house and I think a lot of self-realization for my son. When the opportunity came up to take part in a Black Lives Matter mural project in Kemble Park, we both dove in and had an amazing time working with three other Black artists and a project manager, who my son has been friends with since they were little. Deondre designed a BLM graphic that he put up on a Red Bubble online store and we proudly wore his shirts at the unveiling of the mural. We got to spend a lot of time with each other on blazing hot summer days and nights collaboratively painting a huge wall with new friends that has had a profound impact on the residents of Utica.

In tandem with this great project, I had the chance to create a virtual event with the Utica Roadrunners (our local running group) – the Run Against Racism was born from a couple conversations about how a running group can take a stand. We mapped out a 8.5 mile course that covered many of Utica's neighborhoods and we identified 27 stops along the way that we would put up temporary signs that highlight people, places and events that are significant to our Black community. Working with many friends and colleagues in Utica's Black community, we wrote about history and showcased current Black-owned businesses and non-profit organizations. The run was extremely successful, having just under 140 people sign up to take part and raising a good deal of money through donations – most was put back into Black-owned businesses to purchase gift cards as prizes for participants. The rest is hopefully going to be used to continue advocacy and awareness with a special guest speaker.

I have to give a special shout out to Jaimie Thompson of Mohawk Valley Welding and Custom Trailers – their shop on Broad Street was a stop along the way, but he really got behind the event, he biked the course with his daughter and promoted the run for us. Jaimie's company fabricated ICAN's Mobile Office last year so it was a special connection with business, advocacy and friendship. Also thank you to Brandi, Lisa and Alyssa from ICAN who supported the event by walking a portion of the route during their lunchtime.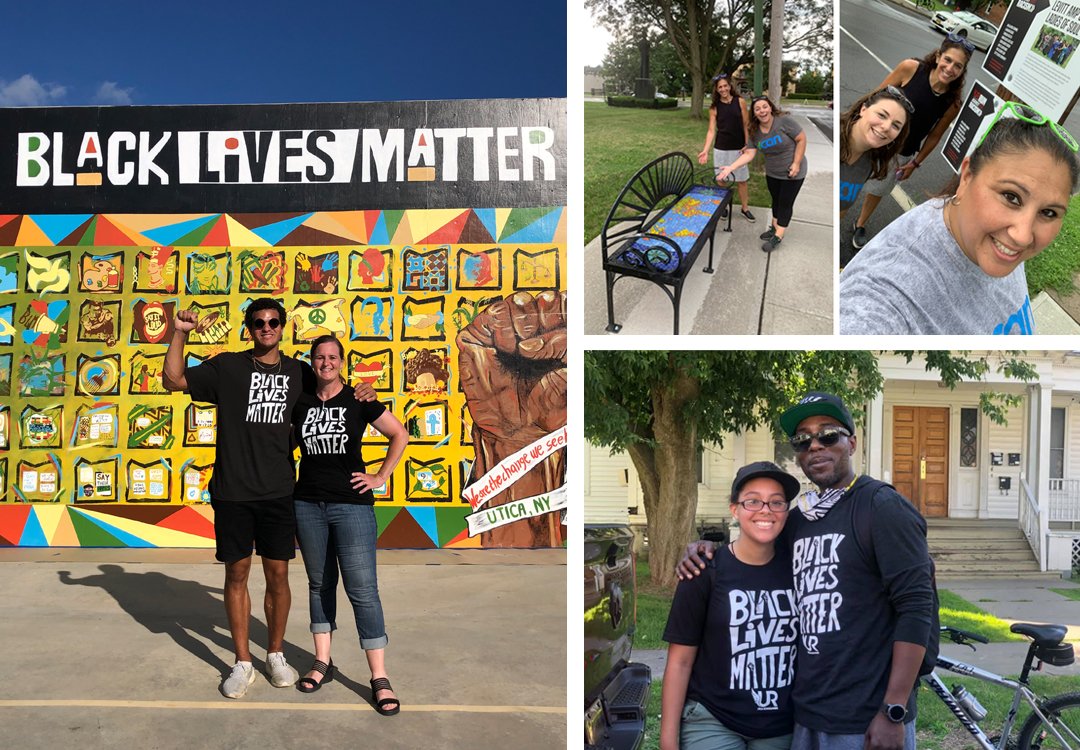 Thank you to all of the ICAN employees that sent in COVID-19 silver lining stories! We hope that everyone continues to recognize some of the positives to times of quarantine with family, friends, or even just yourself. At ICAN, we recognize how difficult this year has been for so many, so taking a moment to also consider some of the good that has come out of this time is so important. Despite these trying times, it is wonderful to see our employees working to keep their families together, stronger than ever!
_________________________________
This is the third post in ICAN's Silver Linings Series. We will be sharing multiple stories of how many of our staff members have embarked on adventures, learned new skills, completed home improvement projects, made memories, became closer with their families and more as we all celebrate the upside to social distancing and stay-at-home orders.
Other ICAN Silver Linings Stories from Staff: